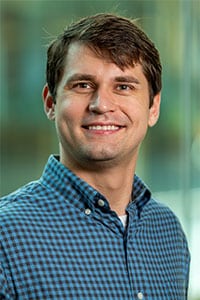 Postdoctoral Fellow
Area:
Phone:
(218) 348-6646
My research focuses on mass spectrometry-based informatics. These technologies routinely profile thousands of biomolecules in a single experiment. I am currently investigating new data acquisition strategies which enable more efficient characterization of lipids, a critical molecular component in both metabolism and cellular signaling. My previous work includes the development of several web-based software platforms which facilitate the analysis/interpretation of mass spectrometry data and securely share results with collaborators.
Education
Ph.D. Analytical Chemistry, 2020, University of Wisconsin – Madison.
B.A. Chemistry, 2015, Saint Olaf College.