Open source immobilization device for high resolution, multiphoton imaging of live zebrafish
I am a Biomedical Engineering undergraduate under the direction of mentor Kevin Eliceiri, Morgridge Medical Engineering collaborating with Robert Swader of Medical Engineering and Jayne Squirrell of LOCI on a zebrafish immobilization device to improve high resolution, multiphoton imaging of live zebrafish over time in collaboration with University of Wisconsin-Madison Professor Dr. Anna Huttenlocher, Medical Microbiology and Immunology.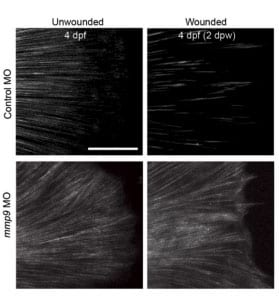 One of the reasons zebrafish larvae are a model organism is that their transparency — specifically the tail region in our studies — is conducive for imaging. However, since their anatomy and rapid growth make it difficult to image, our goal is to create a device to immobilize the fish without growth inhibition and still allow experimental manipulations. Using this device in conjunction with fluorescent imaging permits capture of a series of images of the living larvae, yielding a time lapse of the regenerative response.
Dr. Huttenlocher is interested in discerning how animals sense initial tissue injury and transform wound signals into regenerative growth. Our intention is to develop an open-source device to stabilize zebrafish for viable, long-term imaging and then provide this design to the biomedical imaging community at the University of Wisconsin-Madison and beyond.
Education
B.S. Biomedical Engineering, (current student), University of Wisconsin-Madison
Honors
Deans list every semester at UW-Madison (4 of 4 semesters)