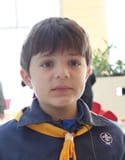 Jackson Sauer
7
What and where is the Yahara watershed?
The Yahara watershed is a geographic area in south central Wisconsin. It is comprised of about 370,000 people and 359 square miles home to the city of Madison, the University of Wisconsin-Madison, and this chain of lakes we refer to as the Yahara lakes.
It's called a watershed because all the rainfall and snow melt that comes onto the surface here eventually makes its way to the Yahara River. That water moves down through the chain of lakes—like lakes Mendota and Monona— and comes to a single outlet point on the southern end of the watershed. This eventually drains into the Rock River, then the Mississippi River and down to the Gulf of Mexico.
In the Yahara 2070 project, researchers from a variety of fields are trying to figure out what the future of the watershed may hold as a result of climate change, urbanization, land management and human demand. These factors may affect water quality, the amount of food that is produced in the watershed, or the amount of flooding that might take place.
The project looks out to the year 2070 because it's easier for people to connect to the future by thinking about their children and grandchildren who might be living in the watershed.
Four potential scenarios were developed as part of Yahara 2070 and highlight what might happen if society has to deal with an ecological disaster, prioritizes new technologies for climate issues, shifts values toward community and sustainability, or changes how freshwater resources are governed.
The project is not trying to predict the future. It's trying to create some type of space in which possibilities or plausible outcomes are created and can be used to weight the decision-making process.
We study the future because we have an impact on it and because we're going to be a part of that future. If we can understand a bit better how our decisions might influence the future, then we may be able to avert things from happening that we don't want to see.