The Kopietz Family (L-R): Lucas, Courtni, Jeff, Teresa, and Tyler. Courtni and her dad Jeff are soon embarking on a 100-plus mile trek across Portugal to celebrate Courtni's 19th year cancer-free. All proceeds donated to #100miles4research campaign will benefit the Morgridge Institute for Research.
The young Kopietz had finished more than a year's worth of chemotherapy in her fight against acute lymphoblastic leukemia (ALL) – a childhood cancer affecting 200,000 people annually in the United States. Kopietz was in remission, but the treatment had badly damaged her knees. She spent a lot of days reading books from her bed in Omaha, Nebraska.
Today, things are a lot different (although the voracious reading is still a thing).
Kopietz, a communications specialist at the Morgridge Institute for Research, has long ditched her crutches. And on April 15, she's traveling to Portugal with her dad, Jeff, to celebrate her 19th year in remission. Together, they'll walk 100-plus miles on the Camino de Santiago pilgrimage and they hope to raise $10,000 to support biomedical research at the Morgridge Institute.
A lot of folks at the Morgridge Institute are used to seeing you talking with researchers and running up and down the stairs with your camera in-hand. But 19 years ago, things were a lot different.

I was seven when I was diagnosed with leukemia and went through two-and-a-half-years of chemotherapy. In the middle of my treatment, we found out some of the chemo had affected my knees – basically, my bones degenerated and I had to use crutches for almost two years. My doctors caught it early and they were able to prevent me from ending up in a wheelchair.

Now each year, my family and I celebrate my journey in April. My mom and I often go to Chicago or New York to see a Broadway show –

Wait, did you get tickets to Hamilton?

No. They're really hard to get.

I know! Ok, sorry – go on:

And my dad – who is a pretty active guy and is a SWAT Officer in Omaha – and I have taken trips together.

This is your 19th year in remission. How are you celebrating this milestone?

I wanted to celebrate my mobility and find a way to give back to biomedical research. I learned about the Camino de Santiago a few years ago – it's a pilgrimage in Europe, ending in Spain, that thousands of people walk each year. I've heard it's a challenging and fulfilling journey.

You're hoping to raise $10,000 for your #100miles4research campaign. Why'd you select the Morgridge Institute as your charity of choice?

It was such an easy decision — sometimes research can feel impersonal, but every day I see the impact researchers are making in human health here at the Morgridge Institute. I believe in what they're doing. Donations to basic research can help fight cancer and so many diseases and disorders down the line.

Tell me about some of the things you're bringing on the walk.

A guidebook, a journal and seashells; the shells are used to identify yourself as a pilgrim on the trail. My dad and I will also be wearing red Morgridge T-Shirts and pins on our backpacks.

You're a big reader and you've been loading up your backpack with books for your training walks. So, if you could bring 3 books which books would you bring?

I have a lot, but the top would be:

The Historian by Elizabeth Kostova
Rebecca by Daphne du Maurier
Pride and Prejudice by Jane Austen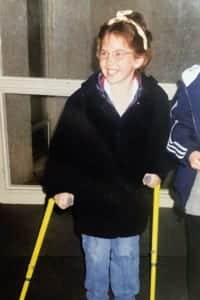 Courtni (9) with her first crutches in recovery.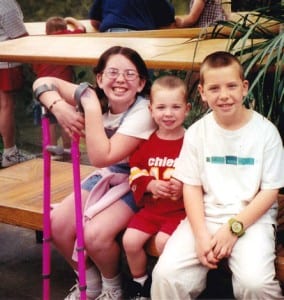 Courtni (10) with brothers Lucas (2) and Tyler (8), and her pink crutches -- her favorite ones. The crutches and wheelchair were donated during Courtni's recovery.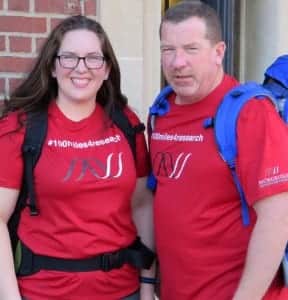 Courtni and her dad Jeff will be walking 100-plus miles beginning April 15 to celebrate her 19th-year cancer free.