Laura Heisler and her Discovery Outreach team are growing an iceberg.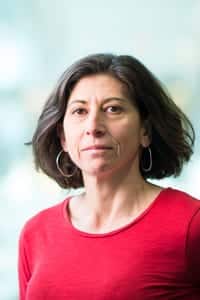 The visible part of that iceberg can be seen on a regular basis in the Discovery Building, through programs like Saturday Science, the Wisconsin Science Festival, summer camps and after-school programs. Tens of thousands of people of all ages participate in these programs every year, pursuing a seemingly unquenchable curiosity about the mysteries of life and the world.
But that mass of ice below the surface is equally important. It represents the hundreds of Wisconsin scientists, researchers and experts who are adding their voice to science engagement each year, searching for new ways to make their science relevant and exciting to the community.
"The part that's below the water is the effort to work with researchers to expand their role in feeding this beneficial endeavor and this cycle of bringing more people into science," says Heisler, director of Discovery Outreach that is jointly supported by the Wisconsin Alumni Research Foundation and the Morgridge Institute.
"We want to create this sort of virtuous cycle that starts with great programs that are a magnet for the public," she adds. "And the greater the programs are, the more researchers want to get connected to them as a way of growing their skillsets."
Known formally by federal funding agencies as "broader impacts," connecting scientists with the public is increasingly seen not as an "extra," but as an essential outcome of quality research. But it doesn't simply happen; Wisconsin scientists need support and expertise to create programming that resonates with the public, and especially programs that enhance K-12 science literacy.

Discovery Outreach has helped UW–Madison and Morgridge scientists generate 102 letters of support in their federal grants, including 22 still in process. But what's most exciting is that Discovery Outreach is averaging a 40 percent success rate for supporting federal grant funding. The national average is between 30 and 35 percent. And in total, the outreach team has helped net $41.5 million in federal funding for UW–Madison investigators.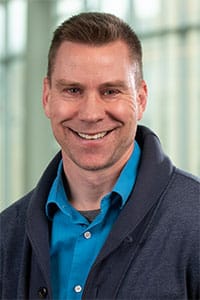 Travis Tangen, education and outreach manager for Discovery Outreach, says a lot of their success stems from taking full advantage of the Discovery Building, with its massive open spaces for public events and hightech teaching labs for both students and educators. It's a major competitive advantage for taking programs to the public.
"Sometimes it's sharing proven strategies that jumpstart conversations with the public, just a 10-second change," Tangen says. "But that 10 seconds can make a huge difference in a scientist connecting as a person first and allow for the shield of expertise to not be a barrier for the public to relate to science."
These programs put a smile on peoples' faces and make science fun and approachable. But that unseen chunk of the iceberg — fostering societal trust in science — is always there.
"We are facing catastrophic challenges of climate change, declining water resources, and current and future pandemics," says Heisler. "I would like to see efforts like ours contribute to breaking down the mistrust of expertise and othering of society and science."
Highlights of the first 10 years
Wisconsin Science Festival grows. What began as a Madison-centric event engaging a few thousand people now has a statewide footprint, with more than half of all programming taking place outside of Dane County with 30,000-plus annual participants.
Bringing science to students. Since 2007, the Rural Summer Science Camps have brought cutting-edge Morgridge science to 400-plus rural high school students from more than 70 Wisconsin schools districts.
Meet the Lab. A new partnership with PBS Wisconsin and Discovery Outreach is creating in-depth research education modules for middle schoolers. The first two modules featured the Melissa Skala Lab and the Tiny Earth Lab at the Wisconsin Institute for Discovery.
The story of 2020: digital engagement. While the COVID-19 pandemic all but eliminated in- person programming for the year, it triggered a successful pivot to webinar-based programs that in many cases attracted more people from a broader range of communities.
Saturday Science. Discovery throws open its doors once a month for a hands-on science free-for-all, typically bringing in 500-plus children and families on themes ranging from bioblitzes to space exploration.