Bill Swisher, the assistant vice president for corporate and institutional partnerships at Carnegie Mellon University (CMU), has been named the new chief development officer of the Morgridge Institute for Research.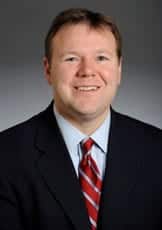 Swisher brings 19 years of diverse development experience to Morgridge, including leadership in helping secure more than $250 million in philanthropic support during his 11 years at Carnegie Mellon in Pittsburgh. Swisher also serves as the head of CMU's 40-person Advancement Information Services Division.
"We are delighted to welcome Bill to the Morgridge Institute," says Morgridge CEO Dr. Brad Schwartz. "Bill understands the mission of the institute and is passionate about advancing biomedical research. His enthusiasm and experience will help us, especially as a young organization, continue building relationships that lead to a solid foundation of support."
Swisher will begin on Nov. 1. Working in close collaboration with the University of Wisconsin Foundation, he will be responsible for building and implementing a comprehensive development program with a focus on major gifts to support the institute's core research and outreach areas.
"I am excited about the opportunity to play a role in supporting research that will dramatically improve human health and promoting science outreach," Swisher says. "My focus will be to enact development strategies that enhance our existing initiatives and enable future expansion of our research and outreach programs."
Swisher's accomplishments at Carnegie Mellon include helping secure gifts for the Gates Center for Computer Science, an advanced research and education facility named for lead donor and former Microsoft Chairman and CEO Bill Gates; and a private foundation to foster university entrepreneurship and commercialization. He also led organization of CMU's current corporate partnership model that helped increase corporate investment from $17 million to the current $35 million annually.
Recognizing the lack of national professional support for university corporate relations leaders, Swisher in 2007 co-founded the Network of Corporate Relations Officers (NACRO) with UW-Madison Corporate Relations Director Charles Hoslet. NACRO has grown to 150 member research universities.
Swisher also worked in several advancement roles at the University of Pittsburgh from 1996 – 2003. He earned his bachelor's degree in communications in 1994 from the University of Pittsburgh, and a master's of college student personnel administration in 1997 from Southern Illinois University-Carbondale.
The Morgridge Institute for Research is a private, nonprofit research institute affiliated with the University of Wisconsin-Madison, which acts as a collaborative hub for investigators across UW-Madison to work together on fundamental biomedical questions. Its core research areas include regenerative biology, virology, medical engineering, metabolism, and core computational technology. Morgridge outreach programs reach more than 30,000 people annually.