Cardiovascular disease accounts for one in every three deaths each year in the United States, according to the American Heart Association. In addition, more than 370,000 cardiovascular surgeries were performed last year alone.
These facts have motivated James Thomson, regenerative biology investigator at the Morgridge Institute for Research, to make cardiovascular disease the No. 1 focus of his research lab. As one of the world leaders in stem cell science, Thomson quickly saw the potential of stem cell technology to contribute to cardiovascular medicine.
The dream? Just as blood banks are essential to medicine, Thomson's lab hopes to see the advent of artery banks that give surgeons a better, readily available material to replace diseased arteries.
The lab is using pluripotent stem cells to grow the cellular building blocks of the artery — endothelial and smooth muscle cells — and coax them into assembling into arteries that can grow and thrive in a majority of patients.
The National Institutes of Health (NIH) is supporting a seven-year, $8 million project to help move it toward clinical trials — with potential human therapies a decade away. It's a uniquely Wisconsin project, explained Thomson.
"The campus collaboration highlights what the Morgridge Institute does well because we are able to bring together multiple investigators from different expertise centers around campus," Thomson says. "We have an unusual combination of resources in Madison to pull this off."
"We have an unusual combination of resources in Madison to pull this off."

James Thomson
The largest current stem cell research project at UW-Madison has the following ingredients:
Manufactured arteries may not be just a better choice for patients — they may be the only available choice, Thomson says. Transplant arteries must currently be harvested from another part of the patient, such as the leg. Many patients have advanced arterial disease that can be widespread, making even these secondary arteries unsuitable for transplant.
In the first two years of the NIH project, the team has met some early milestones. In 2017, for example, they demonstrated the ability to grow, for the first time anywhere, arterial endothelial cells at both the quality and scale to be relevant to clinical applications.
"We provided valuable proof that we can create a reliable source for cells and make arteries that perform and behave like the real thing," he says.
Stem Cells at 20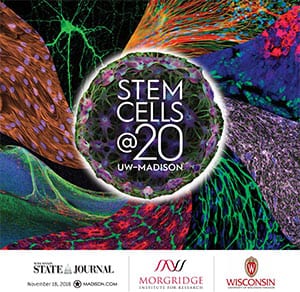 Twenty years ago, scientist James Thomson rocked the scientific world by isolating human embryonic stem cells — the building blocks of human life.
Today, research is booming worldwide, including hundreds of scientists at UW-Madison and the Morgridge Institute.
Read more about the remarkable Wisconsin stem cell story in excerpts from a special section created in partnership with the Wisconsin State Journal.