Mary Burke will bring more than two decades of experience in Wisconsin business, civic and educational leadership to the Morgridge Institute for Research as a new member of its Board of Trustees.
Burke has been appointed to a five-year term on the board of the private, nonprofit biomedical research institute, and will serve on the board's finance and education and outreach committees. Her first meeting will be June 12.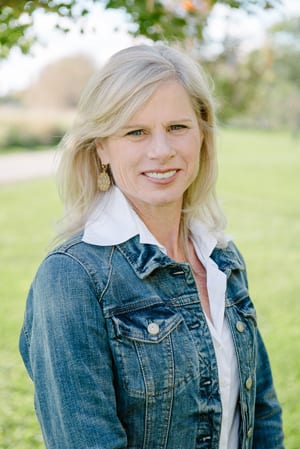 "Mary's background in business and education, combined with her passion for advancing the Morgridge Institute's mission, makes her a great fit for our Board of Trustees," says Morgridge Board Chair Fred Robertson. "We are thrilled to have her join us."
Burke's multifaceted career includes 14 years as an executive at Trek Bicycle Corporation, a three-year term as Wisconsin's Secretary of Commerce, and as current CEO and founder of Building Brave, a nonprofit organization devoted to strengthening women's success through courage and confidence building. She is highly vested in the success of Madison youth as vice president of the Madison School Board, former board president of the Boys & Girls Club of Dane County, and board member of the Great Lakes Higher Education Corporation.
"Both of my parents brought us up with the belief and the values that said the more you have, the more you should give back to your community," Burke says. "I feel very strongly that education is the most important means for equipping people to lead the lives they want to live. It's difficult without a strong education to be able to achieve your dreams, or even to have those dreams and to know what's possible."
Burke says she is looking forward to helping advance the Morgridge Institute, and is inspired by the institute's dual mission of collaborative research with the University of Wisconsin-Madison and community outreach. Morgridge has six core research areas and its Discovery Outreach programs reach more than 30,000 people annually.
Burke says her business background can also benefit the institute. "Even when you're talking about education or nonprofits, people want to see impact," she says. "At Morgridge, as a young institute, we need to ask about where we want to be long-term, what are our goals, and how do best use our resources to achieve those goals."
Addressing the 'confidence gap'
Building Brave, Burke's latest venture, grew out of inspiration from the best-selling book "The Confidence Code" and from her own experience running for Wisconsin governor in 2014. The book highlights a growing body of research that shows that personal confidence — our belief in ourselves — is as essential to success in life as a person's core competence. And many women and girls experience a "confidence gap" that, despite high competence levels, can slow or stall their progress.
By leaving her comfort zone and pushing herself to run for governor, Burke says she emerged feeling more confident than ever before in her life. Building Brave, which will debut in January 2017, is an online resource meant to train girls and women at their own pace how to strengthen confidence in everything from sharing ideas at meetings to asking for a raise.
"What the Khan Academy has done for homework and the Fitbit has done for health, we want to do for building confidence in women," she says. "Confidence can be learned and strengthened, like a muscle."
Burke has earned recognition for her community work, including the 2015 Distinguished Community Leader Award from the Foundation for Madison Public Schools and the 2010 Boys & Girls Club Lifetime Achievement Award.