Although the spring semester took an unexpected turn due to COVID-19, we are here to celebrate the Class of 2020 students and research staff at the Morgridge Institute.
A few of our student staff and researchers shared their research experience at the institute, their plans moving forward and their warm shoutouts to some of the people who helped them along the way.
Jiaye (Henry) He, PhD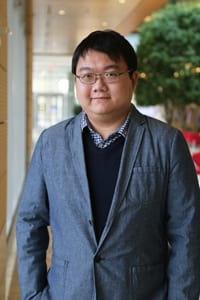 He is a microscopist working at the interface between biology, microscopy and image analysis. His research at Morgridge includes designing light-sheet fluorescence for biological applications and working on turning raw image data into quantifiable data.
"Morgridge is a fantastic place for collaboration and innovation," He says. "Not only do we have a huge optics room for us to build our scopes, but we also have an advanced data center to house our images and an awesome machine shop to meet our tinkering needs!"
He plans to explore biology-driven microscopy development opportunities in academia and industry in Europe.
Shoutout: Kurt Weiss and Alyssa Graves. "Kurt was the only Wisconsin native in the lab when I joined, and he helped me settle in and feel welcomed. I will always remember him helping me move a sofa right after a blizzard halfway across the campus. And Alyssa, as she has done much of the heavy lifting in helping me prepare samples for my experiment. To both of them, thank you!"
Josiah Wolf, BS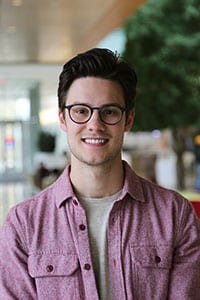 Wolf has been working on a burn device research tool, in collaboration with the BerbeeWalsh Prototype Pathway, attempting to develop a reproducible human skin burn model for pre-clinical studies of burn wound healing on human skin. He enjoyed the opportunity to combine his interests in engineering and medicine to solve clinically relevant problems.
"I've been able to work closely with those who truly understand the need for innovation and are passionate about making a difference," Wolf says. "I have learned that being able to translate a physician's request into a quantifiable specification for any design is a necessary and valuable skill."
Wolf will be pursuing full-time jobs in biomedical engineering and will be thinking about attending medical school in the future.
Shoutout: Ben Cox. "I would give a shout-out to him for his investment in working alongside me in all of the projects I've been involved with for the past few years. I appreciate his willingness to teach and guide me in maintaining an engineering mindset while pushing me to [develop] new skills as an engineer, but also as a person."
Rebecca Alcock, MS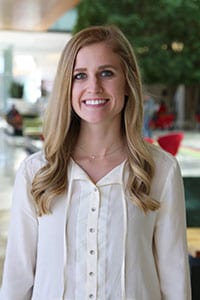 Alcock has worked to characterize the diabetic foot through imaging modalities to help improve patient evaluations during check-ups with clinicians. In addition, she has been part of the Global Innovation Initiative, working to bring more applied global health design opportunities to campus.
"My Fab Lab experience prepared me for [pursuing] a Ph.D. in many ways," Alcock says. "The breadth of knowledge within the Fab Lab, and at the Morgridge Institute for Research in general, is astounding. We are so privileged to work in a community that stretches to so many areas of expertise and encourages non-traditional collaborations."
Alcock will be pursuing a Ph.D. in Industrial and Systems Engineering at UW-Madison under Dr. Justin Boutilier. The research will revolve around the design and optimization of a novel renewable energy and transportation system for rural healthcare clinics in low-resource parts of the globe.
Shoutout: Dr. Kevin Eliceiri. "Thank you. You constantly go above and beyond for your students, and my graduate experience was transformed thanks to your mentorship and support. I hope to pay forward everything I learned from you, in science and leadership, to my own students someday."
Michael Pinkert, PhD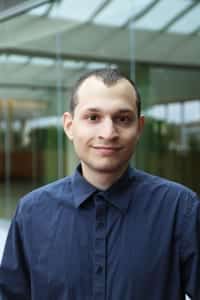 Pinkert's work focused on novel imaging approaches to understand tissue composition, particularly focused on the protein collagen. The imaging has applications in diseases as diverse as cancer, heart disease, and pre-term birth.
"I was endlessly surprised by the variety, breadth, and scale of all the projects being worked at in Morgridge. It is a completely different environment from a typical academic department," says Pinkert.
Pinkert has started his new career as a data engineer at American Family Insurance.
Shoutout: George Petry, "who is a great machinist, an amazing mentor, and a good friend."
Tiffany Heaster, PhD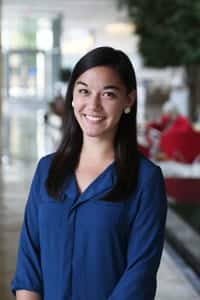 Heaster worked as a graduate researcher to develop new imaging techniques and computational methods to characterize cell heterogeneity in tumors and how it impacts tumor progression.
Heaster appreciates the institute's emphasis on collaboration and science outreach.
"Simple conversations about your day-to-day science can turn into great connections and unique projects," Heaster says. "The Morgridge Institute makes great strides in advancing biomedical research, but it goes so much further with the opportunities to engage the community."
She will continue to work as a postdoctoral researcher in the Skala lab while exploring future job opportunities.
Shoutout: Dan Gil, Amani Gillette, Dan Pham, Sophie Mancha, and Kelsey Tweed. "You're all amazing researchers and do incredible work (even in a pandemic!). I've been so lucky to work with you and have your support."
Logan Florek
Florek is a high school research assistant in the Optical Microscopy in Medicine Lab, focusing on using two-photon microscopy techniques to gain insight into cell metabolism. He is currently working on a comparative study between RMPI cell culture medium and HPLM, a medium developed to better mimic human blood plasma.
"One of the many things I have learned while working with scientists at Morgridge is problem-solving skills. Many problems arise during experimentation, and I have learned that determination and organization are key to overcome bumps in the road," Florek says.
Upon graduating high school and getting admitted to UW-Madison, he plans to double major in Biology and Fine Arts, as well as continuing his research in the Skala Lab.
Shoutout: Amani Gillette. "She has mentored me since I joined the Optical Microscopy in Medicine Lab, and I am incredibly grateful for her help and guidance."
Patrick Kasl, BS
Giving up a full UW football scholarship to embark on his scientific endeavor, Kasl was part of the vascular graft project in the Thomson Lab. He worked on imaging and data analysis as well as testing for maturing the cells on the graft before implantation, specifically looking at different conditions that might be more conducive to full coverage of the graft.
"The best part about working in the Thomson Lab was being exposed to such a breadth of research," Kasl says. "I learned a lot about how to approach scientific problems."
Kasl's next step will be pursuing a Ph.D. in Bioengineering at UC-San Diego in addition to working in a sequencing technology development lab.
Shoutout: "Suet Lee and Cathy for training me and being so great to work with."
Janmesh Patel, BS
As an undergraduate researcher in the Newmark Lab, Patel focused on preventing schistosomiasis, a parasitic infection which affects over 200 million people worldwide. Over the past few years, Patel has conducted a drug screen from a chemical library of over 720 compounds in order to find any compound that could prevent infection.
His biggest take away from working with his mentors in the lab is that before you can reach your goal you will experience countless failures.
"Failure is a part of research and life," Patel says. "True failure is not messing up an experiment or not getting the desired results, you only fail if you don't learn from your pitfalls to return more well equipped to tackle the problem at hand."
While continuing his work in the Newmark Lab for another year, he will be applying to medical school.
Shoutout: Jiarong Gao. "She has put up with me for the past 3 years and I know it must have been difficult for her. I barely knew anything about Schistosomes let alone basic biological principles in general before joining the lab. However, she spent day after day to train me and teach me everything she knows. Without her guidance, there is no way I could have succeeded in the lab. I have learned so much from her and I am eternally grateful for all she has done for me."
In addition to those featured above, we want to highlight and congratulate the remaining student staff and researchers who are graduating and moving onward to the next phase of their journey:
Suet Lee, Student Lab Assistant, Regenerative Biology, Thomson Lab
Muhammad "Daus" Husaini, Front End Web Developer Intern, Regenerative Biology, Stewart Lab
Tiffany Huang, Social Media and Communications Intern, Communications Team