It is with great excitement and admiration that we congratulate our 2021 graduating students and research staff who will be moving on from the Morgridge Institute and into their next chapters. We are particularly proud of their resilience and persistence as they faced the strange challenges brought forth by the COVID-19 pandemic.
A few of our graduates shared what their time at Morgridge has meant to them, their accomplishments and their plans for what's next.
Anjalie Schlaeppi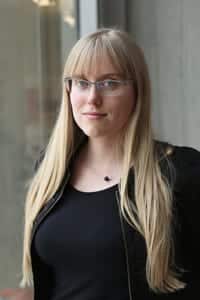 As a PhD student in the Huisken Lab, Schlaeppi utilized advanced light sheet microscopes in order to understand how the embryonic heart beats. More specifically, she used zebrafish as a model organism because they are translucent and their heart is easily accessible.
While she has been a visiting student at Morgridge, Schlaeppi is earning her degree from the Dresden University of Technology. After graduation, she plans to return home to Switzerland in hopes of finding a job where she can learn more about microscopy and help scientists answer questions with the expertise she has in microscopy, data analysis and communication.
Shoutout: Heather Esser and Alyssa Graves. "It is difficult to pick one person when I've been working so closely to everyone," Schlaeppi says. "Everyone in the lab has expertise that I've needed at some point. But to pick two, I'd say Alyssa Graves, our lab manager, and Heather Esser, our admin, without whom we can't function. Thank you for your support and humor during these past 5 years."
Jordan Sachs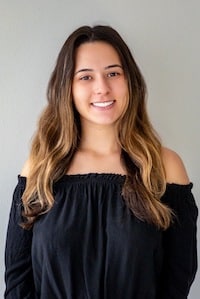 Sachs worked as an undergraduate research assistant in the Skala Lab, with a focus on understanding the relationship between cellular metabolism and the cell cycle. She was drawn to the collaborative nature of research at Morgridge early on. Her major take away from the Morgridge Institute is how to think critically and brainstorm different experimental designs with her colleagues.
After graduation, Sachs is moving to London, England to pursue her Doctor of Veterinary Medicine (DVM) degree at the Royal Veterinary College.
Shoutout: Rupsa Datta. "I would love to give a shoutout to Rupsa Datta for being an outstanding mentor the past 3 years," Sachs says. "I am really going to miss you."
Alexandra Schroeder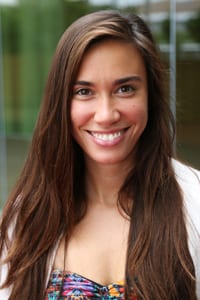 Schroeder earned her PhD from UW-Madison in the fall of 2019, however she was unable to attend graduation in the spring due to the COVID-19 pandemic. As a first-generation college student, she was incredibly disappointed to miss the ceremony, therefore she walked with the Class of 2021 this spring.
As a member of the Fab Lab, Schroeder used fluorescence and optical imaging techniques to answer clinically relevant questions in various wound healing models. Her research has leveraged both intrinsic and extrinsic signals to explore changes in metabolism and the extracellular matrix in brain, Parkinson's disease, Alzheimer's disease and human burn injuries.
Shoutout: Kevin Eliceiri. "I would thank him for being an incredible and supportive mentor, and for inspiring omnivorous curiosity in all who have the fortune of working with him," Schroeder says.
In addition to those featured above, congratulations to all the rest of our staff and students who are graduating and moving onward this semester:
Ray Liu: Regenerative Biology, Stewart Computational Biology Group
Daniel Gil: Skala Lab, Biomedical Engineering
Kelsey Tweed: Skala Lab, Biomedical Engineering
Stephen Halada: Skala Lab, Biomedical Engineering
Rebecca Schmitz: Skala Lab, Biomedical Engineering
May Wu: Skala Lab, Biomedical Engineering
Lizzie Maly: Skala Lab, Biomedical Engineering