It is with great excitement and admiration that we congratulate our 2022 graduating students and research staff who will be moving on from the Morgridge Institute and into their next chapters. We are particularly proud of their resilience and persistence as they faced the strange challenges brought forth by the COVID-19 pandemic.
Two of our graduates shared what their time at Morgridge has meant to them, their accomplishments, and their plans for what's next.
Josephine Watkins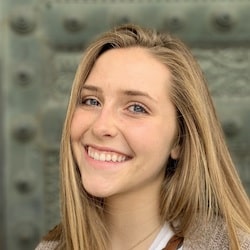 Josie Watkins worked as a Communications Specialist for the Research Computing group, where she supported the Partnership to Advance Throughput-Computing (PATh) Project, which unites UW-Madison's Center for High Throughput Computing and the OSG Consortium. In her role, Watkins wrote a variety of articles highlighting the multitude of ways high-throughput computing impacts research.
After her graduation in December, Watkins spent a few months traveling and volunteering around South America to Ecuador, Peru, Chile, and Argentina. Starting this June, she will be working in St. Paul, Minnesota as a Communications Specialist for EcoLab, a global leader in water, hygiene, and infection prevention solutions and services.
Shoutout: "I'd like to shout-out Lauren Michael, a Research Computing Facilitator and a thoughtful mentor to me during my time at Morgridge," says Watkins. "Lauren is so knowledgeable about the world of science communication, and I'm so thankful for her guidance and feedback on the articles that I wrote –– she genuinely helped me grow as a writer and person."
Dominic Ritacco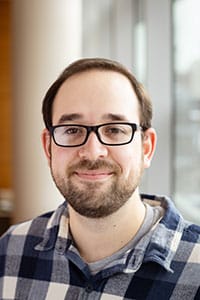 Dominic Ritacco has been working in the Cantor Lab as an undergraduate researcher for the past three years. More specifically, he investigated how environmental factors influence genes that are essential in human blood cancers.
One thing Ritacco will remember fondly about the Morgridge Institute is the comradery and collaboration among his colleagues. He appreciated the opportunity to work with graduate students and faculty, to ask important questions, and to learn how to develop experiments and the importance of proper controls and reproducibility.
Ritacco will be continuing his studies at Columbia University's Microbiology and Immunology PhD program.
Shoutout: "I would like to shout out my former graduate student mentor, Kimberly Huggler," says Ritacco. "Kim taught me the ins-and-outs of working in a lab and she was always extremely helpful and patient. I could not have asked for a better mentor than Kim."
In addition to those featured above, congratulations to all the rest of our staff and students who are graduating and moving onward this semester:
Jacob Henry: Fan Lab, Metabolism
Morgan Lock: Communications
Laura Muehlbauer: Coon Lab, Metabolism
Gretchen Seim: Fan Lab, Metabolism