Yao Zhou, a law and ethics researcher at Morgridge, was recently awarded The Thomas Edison Innovation Fellowship from The Center for the Protection of Intellectual Property (CPIP) at the Antonin Scalia Law School on the campus of George Mason University.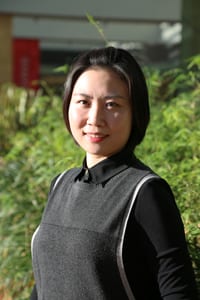 As an Edison Fellow, Zhou seeks to promote innovation in biotechnology by addressing the question of whether and how public-private partnership can accelerate innovation in this field.
In particular, she will focus on the role of intellectual property (IP) rights in advancing technologies pertaining to microbiome-related medical research and clinical applications.
"We don't really know much about the place of patents and other forms of IP protection in new collaborations between public and private actors," she says. "We'll get to learn about how new governance actors and oversight mechanisms can cope with challenges of incentivizing innovation as they arise from practice."
CPIP's Thomas Edison Innovation Fellowship is a year-long fellowship program brings together scholars to develop rigorous scholarship on innovation and/or patent law and policy. The award of the Edison Fellowship is a remarkable honor because of its mission, sharing and collaborating with expert senior scholars and industry representatives on their research and drafts.
Zhou also noted how the experiences she has at the Morgridge Institute helped her reach new heights in her career.
"Professor Pilar Ossorio gave me the chance and experience to believe in myself as a researcher in interdisciplinary studies," Zhou says. "People at the Morgridge Institute did an amazing job at helping me feel welcomed and convincing me that I could succeed in the program."