"I don't know if I have the answer for you, but I would love for you to talk to us about it and we can figure it out together!"
This is the approach that Felipe Rosas Gomez takes when he engages with students in his new role as assistant outreach coordinator as a member of the Morgridge Community Engagement Team, who just wrapped up their Summer Science Camp programming for the year.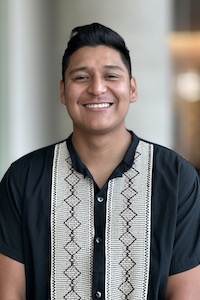 As a first-generation immigrant and college graduate, Gomez came to the institute in June after graduating from UW-Milwaukee in 2022, where he studied community engagement, education, and education policy.
His passion for education grew when he took a job working in alternative education in Milwaukee, with 17-21 year old students who found themselves needing high school level education after being expelled or falling far behind their peers.
"So often, we continue to blame the kids. Like, we're not really blaming ourselves, right? We're not really blaming our teaching practices, or our curriculum, or the institutions and power." He says.
Gomez says that growing up in school, he was extremely intimidated by science and math. But in his job teaching alternative education, he worked closely with a math teacher, and was surprised to discover that he was decent at it himself.
"If someone would have given me the opportunity and brought that out of me back when I was in traditional school, then maybe I would have been a doctor, you know, who knows?" he laughs.
Gomez will partner with Outreach Coordinator Jerrod Buckner and focus his work on managing Science Expeditions, designed for afterschool programs or events at local community centers. He is enthusiastic about continuing the institute's mission to spark scientific curiosity and serve society through this work.
"The biggest question I have had for our team is how can we be more intentional without making feel anyone excluded?" he says. "How do we continue to promote the Wisconsin Idea, and continue to promote what Morgridge is really all about?"
While traditional education is important, Gomez says that finding intentional ways to provide resources to communities without the resources will have big, meaningful impact. He envisions a community where students can be unapologetically themselves to develop and grow their own identities within a science "safe haven".
"I think so many things we take for granted like interacting with like people with different backgrounds, ethnicity and different paths of life," Gomez says. "There's research on the importance of representation and taking advantage of cultural capital—these things really make a difference."
Growing up a young Latino, Gomez recalls how his parents and community think about science in terms of doctors, nurses, and the medical field. They rarely think about biochemistry or geology or other branches of science.
"I really want to help students explore and develop those skills," he says. "And so that's kind of what I want to do, I want to be able to make those changes or be in a room where we're making those decisions."
Looking toward the future, Gomez would like to to apply for a master's program through the UW Department of Educational Leadership and Policy Analysis (ELPA). Through his work at Morgridge, he hopes he can further develop his skills to succeed in creating change.
"I've never actually had the tools or team to say, 'the sky's the limit, just do the research and come up with a plan!'" Gomez exclaims. "Now that I'm in this position, I'm excited to really collaborate with communities like the ones that I grew up with, to bring our programming and bring them some of the great science we have here."