What do you do after launching a computer networking company in the gung-ho 1990s, growing it to 700-plus employees across the Midwest, serving some of the world's largest technology companies, then selling the company 13 years later?
If you're James Berbee, you start planning for "the big next."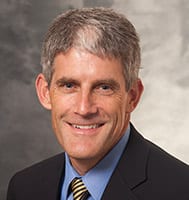 Berbee, a new member of the Morgridge Institute Board of Trustees, has launched a remarkable professional "phase two" in recent years, earning his MD from Stanford University and joining the University of Wisconsin-Madison Department of Emergency Medicine as a clinical assistant professor.
Phase one was remarkable enough. As founder of Madison-based Berbee Information Networks, he led the company to great success in providing hosted computing, data storage and other network services — essentially offering reliability and eliminating down time for companies riding the massive wave of internet growth. Clients included IBM, Microsoft and Cisco.
But long before Berbee sold the company to CDW in 2006, he was thinking about life after the startup venture. A four-time Ironman triathlete, Berbee once broke his collarbone during training and the care he received at a local hospital inspired his interest in emergency medicine. He started going back to UW-Madison, getting his organic chemistry and biology prerequisites in order, and he and his wife Karen Walsh prepared to follow the rigors of medical school.
"The question was, what am I going to do with the second half of my life?" asked Berbee, who holds a bachelor's and master's degree in mechanical engineering and an MBA from UW-Madison. "Medicine had a lot of appeal, because Karen and I have a strong sense of wanting to give back to the community. The wonderful thing about medicine is it really gives you a direct sense of what the needs and problems are in a community. Especially in emergency medicine, you see it every single day."
Dr. Berbee works in the emergency rooms of both UW Health and a clinic in Rice Lake, while also serving on the Med Flight medical team. UW Health takes on the region's most challenging medical cases, and also serves as provider of last resort for those without financial means. "You see a lot of tough stuff," Berbee says.
"You see so much that often is not medically related, it's socially related," he says. "A bad socioeconomic situation, poor decisions with substance abuse, alcohol abuse. You see the effects of generations of poverty and poor education. What you learn is you can't just throw money at it."
This realization inspired Berbee and Walsh to make a commitment to Access Community Health in Madison through their foundation. One of their favorite projects involved funding a new pharmacy in the organization's south Madison clinic. The pharmacy not only increases the odds that patients follow through with prescriptions, it provides Access with another revenue source to support clinic services, since the clinic charges based on ability to pay.
"I'm just a huge fan in my personal life of paying for something up-front that will end up costing less down the road," he says. "Why don't we want to do that with healthcare, too? We can manage expenses by providing good primary care, treat chronic diseases like diabetes and high blood pressure, we can treat and manage (those conditions) well. Then we can avoid a trip to the ICU that might cost $10,000 a day."
Berbee also has found a way to connect both stages of his career with a medical technology project aimed at transforming the medical otoscope. The otoscope — a cone-shaped magnifier meant to illuminate the inner ear — has been around for more than a century, is "large and crude" and often ineffective. Berbee describes how difficult and sometimes frustrating it can be to use the currently available instrument. "Half the time, when a kid comes in with a fever and is tugging at his ears, we can't see anything but we start on antibiotics as a precaution."
The wonderful thing about medicine is it really gives you a direct sense of what the needs and problems are in a community.
Dr. James Berbee
With a team of doctors in UW emergency medicine, Berbee is working on a new device that combines a millimeter-diameter flexible tube that can navigate around obstructions with an optical imaging display. "You get this beautiful view as an optical display and something that can be captured and put into medical records."
The team has filed a patent with the Wisconsin Alumni Research Foundation (WARF) and has generated early support from UW-Madison's Discovery to Product initiative. The group plans to develop its technology independently.
The couple is involved in a great deal of community work. Perhaps most known is the Berbee Derby, an annual Thanksgiving Day run that raises money for technology education projects for schools and non-profits in the Madison area. They also funded this year an endowed faculty position in UW emergency medicine.
Berbee, who also serves on the WARF Board of Trustees, says he is eager to help the Morgridge Institute define a successful and sustainable path.
"I think about how incredibly fortunate we are to have a facility like this in Madison," Berbee says. "The idea of having a private institute with tie-ins to the university, it gives your researchers advantages to focus on what they need to focus on, with projects that are likely to have high impact."