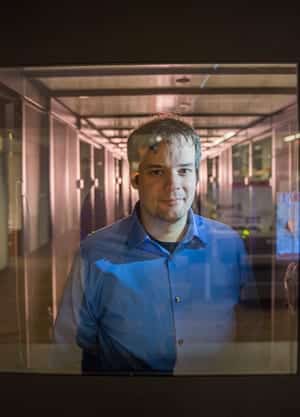 Andreas Velten, an associate scientist with the Morgridge Institute for Research, has been recognized by MIT's Technology Review as a TR35 honoree for 2012.
The TR35 list recognizes the world's top innovators under the age of 35 in fields such as biotechnology; computer and electronics hardware and software; energy; the Web; and nanotechnology.
Velten is being honored for his work in imaging technology, including development of the first camera that can peer around corners. Velten's research, conducted while at the Massachusetts Institute of Technology's Media Lab, appeared in the March 20, 2012 edition of Nature Communications.
Velten was selected as a member of the 2012 TR35 by a panel of expert judges and the editorial staff of Technology Review, who evaluated more than 250 nominations. He will join other TR35 honorees in discussing their achievements at the EmTech MIT 2012 conference, taking place at the MIT Media Lab in Cambridge, Mass., Oct. 24-26.
All of the TR35 winners for 2012 will be featured in the September/October issue of Technology Review and online here.
"This year's TR35 recipients are applying technology to some of our generation's greatest challenges, and innovating to improve the way we live and work," says Jason Pontin, editor-in-chief and publisher of Technology Review. "We look forward to watching these young technology leaders grow and advance over the coming years."
Velten's current work with the medical devices team at the Morgridge Institute for Research focuses on the imaging technology used in advanced microscopes and mass spectrometers.
"Current microscope systems are very sophisticated, yet we can make them even more powerful if we expand the spectrum of light that is processed," Velten says. "Improving microscopes and other imaging technology will produce direct human health benefits by advancing our understanding of disease processes and enabling physicians to make better diagnoses."