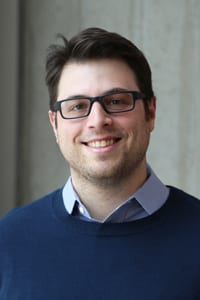 Investigator, Metabolism
Area:
Email:
[javascript protected email address]
Research website >
Investigator, Morgridge Institute for Research
Assistant Professor, Department of Biochemistry, UW-Madison
Faculty Affiliate, Department of Biomedical Engineering, UW-Madison
Faculty, Integrated Program in Biochemistry, UW-Madison
Faculty, Cellular and Molecular Biology Graduate Program, UW-Madison
Member, Carbone Cancer Center (Developmental Therapeutics Program)
Our lab has broad interests in modeling, understanding, and exploiting the impact of environmental factors on human cell metabolism, with a particular focus on hematological cancers and normal lymphocytes. We use an interdisciplinary approach to discover unforeseen biological (and pharmacological) phenomena in cell metabolism, cancer biology, and immunology that may have been overlooked or misinterpreted owing to the use of conventional in vitro (and perhaps even in vivo) model systems that poorly mimic physiologic conditions. Ultimately, we aim to translate our findings into new therapeutic opportunities.
After earning his B.S. magna cum laude in Chemical Engineering from Cornell University, Jason completed his Ph.D. in Chemical Engineering from The University of Texas-Austin. His doctoral work focused on strategies to engineer safer therapeutic enzymes for cancer therapy and included his development of a novel deimmunization scheme that combined concepts in directed evolution and neutral drift. Next, he completed his postdoctoral training at the Whitehead Institute/MIT, where his primary focus was in examining how environmental factors influence cancer metabolism. During that time, he pioneered the design and use of cell culture media that more faithfully mimic biochemical conditions in the human body. Since August 2018, Jason has held joint appointments as an Investigator at the Morgridge Institute for Research and as a tenure-track Assistant Professor in the Department of Biochemistry with faculty affiliate status in the Department of Biomedical Engineering at the University of Wisconsin-Madison. In addition, he is also a member of the University of Wisconsin Carbone Cancer Center and the Wisconsin Blood Cancer Research Institute.
Education
BS, Cornell University
PhD, University of Texas at Austin
Postdoctoral, Whitehead Institute for Biomedical Research/MIT
Honors
Margaret and Herman Sokol Postdoctoral Award, Whitehead Institute for Biomedical Research – 2017
Koch Institute Ludwig Postdoctoral Fellowship – 2016-2017
American Cancer Society Postdoctoral Fellowship – 2011-2014
NIH F32 Ruth L. Kirschstein NRSA Postdoctoral Fellowship (declined) – 2011-2014
George J. Heuer, Jr. Endowed Graduate Fellowship, Univ. of Texas at Austin – 2008
U.S. Department of Homeland Security Graduate Fellowship – 2005-2008
NSF Graduate Fellowship Honorable Mention – 2004, 2005
Thrust 2000 Fellowship, Univ. of Texas at Austin 2004-2007
B.S. awarded, magna cum laude – 2004
William C. Hooey Scholarship, Cornell University – 2003
Tau Beta Pi Engineering Honor Society, Cornell University – 2003
Cornell Club of Boston Scholarship, Cornell University – 2002-2003
Stephen Phillips Memorial Scholarship – 2000-2003
Selected Publications