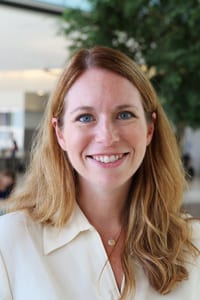 Director of Sponsored Programs and Lab Operations
Area:
Phone:
(608) 316-4347
Email:
[javascript protected email address]
My job is to make sure the Thomson lab runs smoothly. I've been in the lab for 15 years and have had the opportunity to learn many new things during this time.
Areas of Expertise
Pluripotent stem cell biology
Molecular biology
Grants and lab finance management
Education
B.S. Molecular Biology, University of Wisconsin-Madison
MBA, University of Wisconsin-Madison
Selected Publications
Epigenomic analysis of multilineage differentiation of human embryonic stem cells.
Xie W, Schultz MD, Lister R, Hou Z, Rajagopal N, Ray P, Whitaker JW, Tian S, Hawkins RD, Leung D, Yang H, Wang T, Lee AY, Swanson SA, Zhang J, Zhu Y, Kim A, Nery JR, Urich MA, Kuan S, Yen CA, Klugman S, Yu P, Suknuntha K, Propson NE, Chen H, Edsall LE, Wagner U, Li Y, Ye Z, Kulkarni A, Xuan Z, Chung WY, Chi NC, Antosiewicz-Bourget JE, Slukvin I, Stewart R, Zhang MQ, Wang W, Thomson JA, Ecker JR, Ren B.
Cell. 2013 May 23;153(5):1134-48. doi: 10.1016/j.cell.2013.04.022. Epub 2013 May 9.
Dynamic chromatin states in human ES cells reveal potential regulatory sequences and genes involved in pluripotency.
Hawkins RD, Hon GC, Yang C, Antosiewicz-Bourget JE, Lee LK, Ngo QM, Klugman S, Ching KA, Edsall LE, Ye Z, Kuan S, Yu P, Liu H, Zhang X, Green RD, Lobanenkov VV, Stewart R, Thomson JA, Ren B.
Cell Res. 2011 Oct;21(10):1393-409. doi: 10.1038/cr.2011.146. Epub 2011 Aug 30.
Chemically defined conditions for human iPSC derivation and culture.
Chen G, Gulbranson DR, Hou Z, Bolin JM, Ruotti V, Probasco MD, Smuga-Otto K, Howden SE, Diol NR, Propson NE, Wagner R, Lee GO, Antosiewicz-Bourget J, Teng JM, Thomson JA. Nat Methods. 2011 May;8(5):424-9. doi: 10.1038/nmeth.1593. Epub 2011 Apr 10.
Somatic coding mutations in human induced pluripotent stem cells.
Gore A, Li Z, Fung HL, Young JE, Agarwal S, Antosiewicz-Bourget J, Canto I, Giorgetti A, Israel MA, Kiskinis E, Lee JH, Loh YH, Manos PD, Montserrat N, Panopoulos AD, Ruiz S, Wilbert ML, Yu J, Kirkness EF, Izpisua Belmonte JC, Rossi DJ, Thomson JA, Eggan K, Daley GQ, Goldstein LS, Zhang K.
Nature. 2011 Mar 3;471(7336):63-7. doi: 10.1038/nature09805.
Induced pluripotent stem cell lines derived from human somatic cells.
Yu J, Vodyanik MA, Smuga-Otto K, Antosiewicz-Bourget J, Frane JL, Tian S, Nie J, Jonsdottir GA, Ruotti V, Stewart R, Slukvin II, Thomson JA.
Science. 2007 Dec 21;318(5858):1917-20. Epub 2007 Nov 20.