"That was really cool," says Ben Cox, a postdoctoral fellow in the BerbeeWalsh Prototype Pathway at the Morgridge Institute for Research.
Cox is reflecting on a novel medical device, a phantom for testing medical imaging systems, designed and developed in 2016. The phantom, which is now a patented WARF technology, was part of a project he and several colleagues developed to reduce the radiation needed to calibrate machines, making the process cheaper and safer.
But Cox could be talking about any other project he's helped develop in the Prototype Pathway, a specialized arm of the Morgridge Fab Lab that unites the expertise of senior staff engineers with the tenacity of engineering students.
"We're helping clinicians design novel devices," Cox says. "It's a challenging process, but it's fun. It's rewarding."
Where Cox sees cool and fun, others may see difficult, even impossible medical problems. It made him an especially good fit as the first postdoctoral fellow with the BerbeeWalsh Prototype Pathway in 2018.
Now, after two years in his fellowship, Cox is headed the University of Chicago Polsky Center for Entrepreneurship and Innovation where he will start this month as the Technology Development Manager. He will help faculty realize their inventions, bringing his years of experience in technology development to his new position.
"Over his ten years as a student, teacher, and engineer, Ben was the ideal fit for the Fab Lab. He is gifted in bioengineering skills, communication and mentoring," says Kevin Eliceri, director of the Morgridge Fab Lab and a UW–Madison professor of medical physics and biomedical engineering. "We are so excited for Ben's next step, and know he will bring his passion to this new opportunity."
Cox has a "rare, cross-trained, multidisciplinary talent" for working with engineers and clinicians, adds Eliceri. Prior to his BerbeeWalsh fellowship, Cox honed his skills in the graduate program in the Department of Medical Physics where he built a reputation as a technology innovator (and his academic record alone—18 papers and two patents, one licensed—backs that up).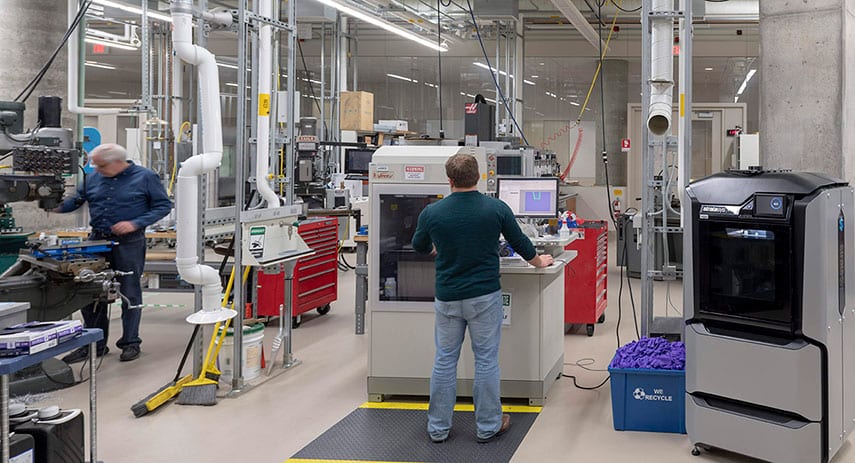 And he's no stranger to the prototype pathway's home in the Fab Lab, a collaborative R&D facility in the Morgridge Institute with rapid prototyping and complex fabrication capabilities. Cox was part of the inaugural group to start the Fab Lab in 2010.
Over the years, he's designed a research device that stretches collagen to help scientists understand how cancer hijacks collagen fibers. He worked on a device that models head and neck tumors in order to create treatment planning methods. And he helped create a device that burns tissues to help study wound healing in the lab, among many others.
"Ben is the epitome of the true value of this collaborative expertise. He's continued to learn and evolve as a talented innovator, valued researcher, and dedicated mentor," Eliceri says.
Cox is quick to point out that senior Fab Lab staff engineers George Petry and Rob Swader have been hugely important mentors.
"I am constantly learning from them. They have such a wealth of experience, and it reminds you that there's a constant learning curve," he says.
"We're helping clinicians design novel devices. It's a challenging process, but it's fun. It's rewarding."

Ben Cox
During his fellowship, Cox helped clinicians in many clinical specialities: emergency medicine, anesthesia, medical physics, radiology, transplant surgery, and more. And all of those projects tackled different, unique medical challenges, and provided an opportunity to train undergraduates along the way.
"He has been an excellent resource when it came to advice on everything," says Liam Granlund, a junior majoring in biomedical engineering and communication arts. "I can't wait to get back [to the lab] and continue fabrication and learn some more of the tools that I haven't been able to use yet."
With his upcoming move to Chicago, Cox is ready to work with University of Chicago faculty to help realize their innovations by guiding them through the patenting process.
"Looking back on my time at Morgridge, I am struck with the different ways in which Morgridge has shaped me as a professional," he says. "My work with the pathway has been a valuable learning opportunity, allowing me to grow as a mentor, as a researcher, and as an engineer. I'm excited to apply my knowledge to the next phase of my career at the University of Chicago. "
The BerbeeWalsh Prototype Pathway is made possible by a gift from the BerbeeWalsh Foundation created by UW–Madison Emergency Medicine Professor Dr. James Berbee and his wife, Karen Walsh.