The path from postdoctoral scientist to faculty member can be difficult to navigate, and individuals from underrepresented backgrounds can face even more barriers along their way.
The Simons Foundation, a private foundation that supports research in math and basic science, works to increase representation by offering grants targeted to individuals historically underrepresented in the sciences. In the field of neuroscience, the Simons Collaboration on Plasticity and the Aging Brain (SCPAB) seeks to fund research focused on mechanisms of resilience and maintenance in the aging brain.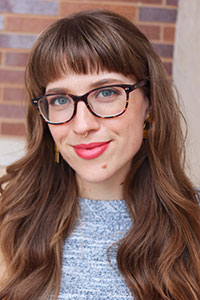 Morgridge Postdoctoral Fellow and first-generation college student Liz Haynes was one of three scientists named today (Sept. 12, 2023) as SCPAB Transition to Independence (TTI) Fellows.
The SCPAB's TTI Award program provides up to two years of postdoctoral support and professional development during the awardee's job search. Upon securing a tenure-track faculty position, fellows will receive an additional three years of funding totaling $600,000 to support their research program.
Haynes works with Morgridge Investigator and UW-Madison Medical Physics Professor Kevin Eliceiri and UW-Madison Department of Pathology Assistant Professor Tyler Ulland on the role of the microglia, the brain's innate immune cells, in aging and disease. She previously worked with Department of Integrative Biology professor Mary Halloran on neurodevelopment and neurodegenerative disease.
Throughout her work Haynes has relied on the model organism zebrafish, a freshwater fish that shares a striking amount of genetic similarity with humans and has amazing regenerative capacity.
"Understanding how microglia age and deal with neurodegenerative disease in zebrafish might be able to tell us how we can better deal with neurodegeneration," says Haynes.
Haynes worked in the Morgridge Fab Lab with Corey Steinhauser, a biomedical engineering master's student, to create a life support chamber for adult zebrafish to facilitate brain imaging in live, anesthetized fish. Zebrafish are traditionally used during their developing stages, so the ability to non-invasively image adult animals could open new doors for understanding how microglia contribute to aging and disease.  
Haynes believes this resonated with the Simons Foundation's mission to advance scientific studies on cognitive aging, autism and neural dynamics. Once in a faculty position, Haynes will use the grant support from the Simons Foundation to develop her lab by hiring researchers and purchasing essential equipment.
"I'm not just building a project necessarily for myself and my own lab," she says. "The kind of work I'm doing will also make the zebrafish a better model for all adult work and for all aging work."