Morgridge Institute Trustee Winslow Sargeant, an international leader in venture investment and small business development, is among four outstanding innovators to receive 2023 Chancellor's Entrepreneurial Achievement Awards.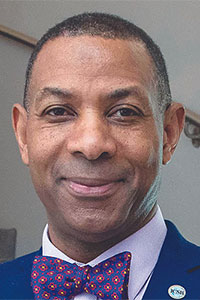 Established in 2011, the awards recognize individuals with ties to the University of Wisconsin–Madison who further the Wisconsin Idea through outstanding accomplishments in entrepreneurship. Honorees have achieved entrepreneurial success that contributes to economic growth and social good, offers models for the UW community, and inspires the campus culture of entrepreneurship.
"Entrepreneurship has a pivotal place in UW–Madison's culture and our execution of the Wisconsin Idea," said Chancellor Jennifer L. Mnookin. "This year, we celebrate how UW alumni, students and faculty shape the entrepreneurial ecosystem and drive the economy in our state and beyond. From a pair of student founders who created the country's fastest-growing digital rewards and marketing platform; to an electrical engineering PhD who built a far-reaching career as an entrepreneur, executive and small business advocate; to a lawyer whose teaching and service influenced a generation of entrepreneurs, these exceptional individuals are models for our campus, alumni, and community."
The Office of the Chancellor, in partnership with the Wisconsin Foundation and Alumni Association, recognized the 2023 recipients of Chancellor's Entrepreneurial Achievement Awards during the annual awards event on April 27.
Sargeant, PhD'95, is CEO of Purple Team Technologies, Inc.; Senior Advisor for Globalization and Head of Capital Markets, Genaesis, LLC; and Chair, International Council for Small Business.
Sargeant is an electrical engineer who has built an exceptional career with global reach, bridging entrepreneurship, technology, venture investing, small business advocacy, education, and service. Sargeant is on the board of trustees for the Wisconsin Alumni Research Foundation, the Morgridge Institute for Research and Northeastern University; and he's on the advisory council of Madison's Center for Black Excellence and Culture. He is a Kauffman Fellow (Class 11) and visiting scholar with George Washington University.
As Senior Advisor for Globalization and Head of Capital Markets for Genaesis, Sargeant syndicates opportunities with unaffiliated third-party capital partners. As Board Chair of the International Council for Small Business, he educates government and nonprofit leaders on sustainable ecosystems for small businesses. He provides leadership to startups as Chief Executive Officer (CEO) of Purple Team Technologies, an early-stage supply chain informatics company, and as board chair for several other companies. He was previously a managing director for Madison-based Venture Investors, before serving as Senate-confirmed Chief Counsel for Advocacy with the U.S. Small Business Administration.
"[Winslow]'s easily seen as a black role model, but he's a role model to engineers, period. To thought leaders, period. To PhD recipients, period. Because of his level of integrity and his commitment to his scholarship," said Alex Gee, CEO of the Center for Black Excellence and Culture.
Other 2023 winners include:
Wesley Schroll, CEO and Founder of Fetch; and Tyler Kennedy, Senior Vice President-Operations and Co-Founder, Fetch.
Fetch has earned its place in history as a Madison "unicorn" — a privately held startup valued at $1 billion or more. Co-founders Wesley Schroll and Tyler Kennedy met through the Collegiate Entrepreneurs Organization and entrepreneurship classes, leveraged their UW–Madison education, student organization involvement, and alumni network, along with entrepreneurial drive, skill, and teamwork, to create a high-growth company with staying power.
Anne Smith, Co-Founder, Law & Entrepreneurship Clinic, University of Wisconsin Law School.
Anne Smith has devoted her career to bringing people together to imagine and build big new things through teaching, mentorship, and innovation in law and early-stage business. Her efforts have impacted a generation of lawyers and entrepreneurs and left a lasting mark on Wisconsin's entrepreneurial landscape.
Visit the full UW–Madison news story