A Madison-Milwaukee scientific partnership is powering an effort to better understand the complicated mechanics of human vision.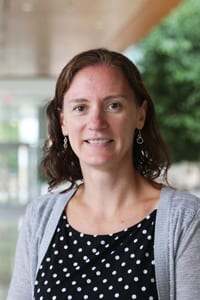 Melissa Skala, a Morgridge Institute for Research investigator and UW-Madison professor of biomedical engineering, develops applications in photonics-based imaging that offer many research benefits, most notably that they do not damage living tissue. That has made her technology an ideal candidate for sensitive imaging related to treating a variety of cancers, immunotherapy, stem cells, eye disease and predicting pre-term birth, to name a few.
It wasn't long after joining Morgridge in 2016 that Skala sought out Joseph Carroll, a scientist at Medical College of Wisconsin who is a pioneer in eye imaging research. Skala, always aware of the potential of her technologies for studying the eye, arranged a daylong field trip to Carroll's lab, bringing half a dozen students along, to investigate possible research partnerships.
It turned out to be a very fruitful endeavor and is helping inform one of Carroll's core research questions: the role that melanin plays in healthy vision and disease. Melanin, of course, is best known as the compound that determines skin pigmentation, but it's also essential to vision.
" Melanin is responsible for absorbing excess light that comes into our eyes, so it serves a protective role," Skala says. "But we're actually uncertain of all the roles it plays."
Together, they developed an imaging technique that offers 3D, color images of melanin in the eye. It was the first time a technique called photo-thermal optical coherence tomography (OCT) had been applied to eye research. The work has led to three published papers and a patent disclosure. While it has been used to date on model organisms such as the zebrafish, both scientists are actively pursuing next steps for potential human clinical applications.
"To translate it, really, to humans, it's ready now. Because we've shown we can do it with safe laser levels," she says. "We're working with a scientist from the University of Rochester in New York who works on an ANSI committee (The American National Standards Institute) that decides safe standards of technology use with humans."
The project led to a literal splicing together of two different technologies. Carroll brought his imaging module to the Morgridge Institute in the back of his truck. Skala's medical engineering team then built specialized laser optics into the device, complete with a protective case built by the Morgridge Fab Lab. It has been back to Madison on other occasions for improvements.
"We were finding that this is a nice, specific technique to measure not only whether the melanin is there, but how much of it is there, and that's what Joe really needed to answer his questions about how melanin affects the visual system," Skala says.
Wisconsin leaders have long been encouraging more active research partnerships between the state's two largest urban centers. For Skala, this partnership was less about proximity than it was about seeking out the best science.
"I think it's all about talent, right?" she says. "Joe's really interested in new technology and how it can tell us how the visual system works. So we tried very hard to work with him and we succeeded."
Want to learn more?
Skala will speak at the July 11 Milwaukee luncheon of the Wisconsin Tech Council. She and Joseph Carroll will discuss their ongoing partnership to better understand the structure and function of the human visual system. The luncheon begins at 11:30 a.m. at the UW-Milwaukee Innovation Accelerator, 1225 Discovery Parkway in Wauwatosa.