As Madison, Wis., begins to usher in the summer and embrace the sunshine, at the Discovery Building, summer means one thing: it's camp season.
The Morgridge Rural Summer Science Camp, where rural high school students and teachers take a deep dive into science research over the course of a week, is expanding and offering a third week of camp thanks to new support from a National Science Foundation (NSF) project.
One more week of camp means an additional five teachers, 25 more high school students, and five more schools represented, including schools from the Upward Bound program that focus on underrepresented and first generation pre-college students.
Dan Murphy, outreach coordinator at the Morgridge Institute for Research, says the additional week allows for more attendees, as well as a bolstered experience with more opportunities for scientists to share their latest work with the community.
"This third week offers up more opportunities for people to get involved, and with new researchers come new activities," Murphy says. "It's very cool to see the camp evolve with the science each year."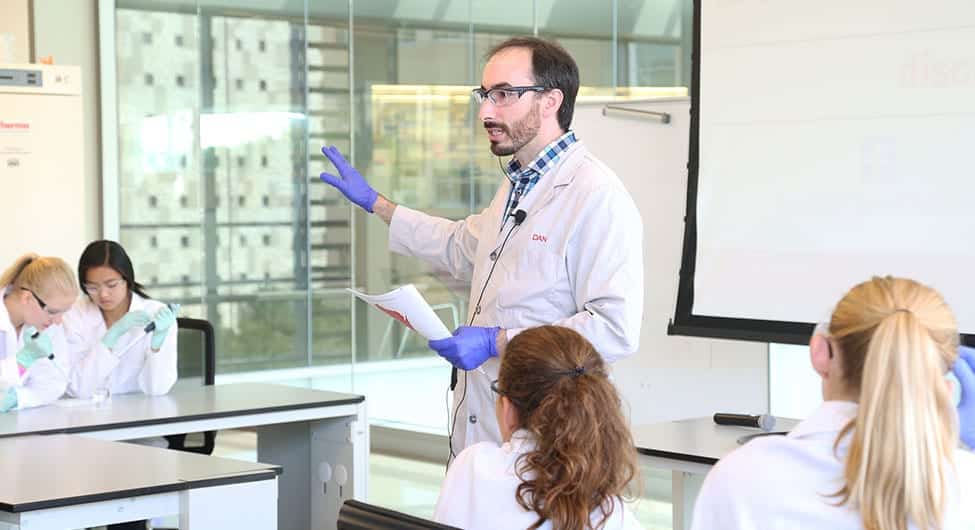 Sean Palecek, an engineering professor at UW-Madison whose lab has presented activities in the camp for more than a decade, sees the value in engaging communities in science outreach and was a core part of the camp expansion.
Palecek is part of the NSF Engineering Research Center for Cell Manufacturing Technologies (CMaT), a large multidisciplinary center meant to stimulate growth of research related to cell-based therapies. The center has an extensive research mission, but also strong education and outreach components. It's some of this funding that's been directed to the camp.
"We wanted to take some of what we've been effectively doing and expand it with the Morgridge science camp," Palecek says. "One goal that we're working on is to try to bring some cell manufacturing flavor to the camp, and try to get the students to think about the applications."
One activity presented by the Palecek Lab that's always a hit with the students and teachers involves heart cells beating in a petri dish. The heart cells—known as cardiomyocytes—were differentiated from human stem cells. In the activity, the campers see the live cells beating and watch how things change when they apply different drugs to them. In real time, they can see caffeine cause the cells to beat faster, or a channel inhibitor slow them down.
Adding a cell manufacturing focus will take this activity one step farther and encourage the campers to question more broadly.
"Not only can we make these beating cells in a dish, but say you wanted to treat someone who's had a heart attack," Palecek says. "Maybe we can make a million cells a dish, but what about a billion cells? How do you deliver to them to the heart? What types of quality control would you want to do before you put the cells into a patient? It's very different watching them in a dish and making sure that they're safe and effective in treatment."
Other camp activities include lessons on bioreactors, CRISPR gene editing, and how bioinformatics accelerates research. Melissa Skala's Lab at the Morgridge Institute—also a part of the NSF CMaT consortium—leads a multi-day experiment which involves imaging the native fluorescence of tumor cells to determine if a cancer therapy has been effective or not.
This year the camp is offering a resource with a direct tie to career development. Partnering with LRNG, an online learning platform that offers micro-credentials, students will gain access to resources and a guided experience before, during and after the camp.
"We want to highlight the connection between the camp activities to career development and job development in Wisconsin."

Dan Murphy
As they complete modules and gain expertise, students earn badges with credentials that are aligned to state education standards or job readiness standards.
"Biotechnology is a huge industry in Wisconsin, and this is a new opportunity for us to connect to that," Murphy says. "The kids that come out of this camp can take this credential with them. We want to highlight the connection between the camp activities to career development and job development in Wisconsin."
For 13 years now, the camps have helped more than 300 rural high school students from nearly 80 state high schools.
Thanks to the support of private donors and sponsors, including the Wisconsin Rural Opportunities Foundation, BioForward, the Kathy Smith Fund, and the Melita Grunow Fund, the camp has been offered free of charge since its inception.