The 2019 Wisconsin Science Festival, held Oct. 17-20, will feature more than 220 events statewide and include everything from fossil exploration and robotic engineering to animal encounters and the science of Star Wars.
Now in its ninth year, the science festival has expanded into half the counties in Wisconsin with more than 100 unique venues hosting activities statewide.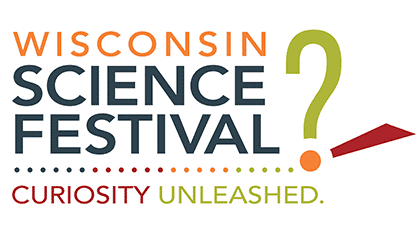 In Madison, the signature events kick off Thursday, Oct. 17, with "Big Ideas for Busy People: Water, Water, Everywhere" at the Discovery Building, 330 N. Orchard St. The Big Ideas event involves high-energy, 5-minute flash talks, and a ringing gong that calls out anyone who goes over the allotted time. This year's edition brings a flood of information from experts about the one substance that all life depends on—water.
Water is a central theme of this year's festival, with more than a dozen talks and hands-on events around the state covering topics like groundwater and wetlands, aquatic organisms and climate change. Kevin Anderson, the science education consultant for the Wisconsin Department of Public Instruction (DPI), is launching a statewide inquiry experience centered on monitoring water quality and run-off patterns. He says water is great theme through which to teach science.
"It's something that we all understand, and water connects to our lives in so many ways," Anderson says. "Our kids swim in it and make snowballs from it. Our farmers use it for irrigation. Water is a very tangible resource, and Wisconsin has a rich history of water."
Madison's Friday-night hallmark event is bringing science into the community with "Science on the Square" Oct. 18. Dozens of venues on the Capitol Square in downtown Madison – including museums, pubs, stores and restaurants – will host informal science talks, demonstrations, tastings or hands-on activities from 6 – 9 p.m.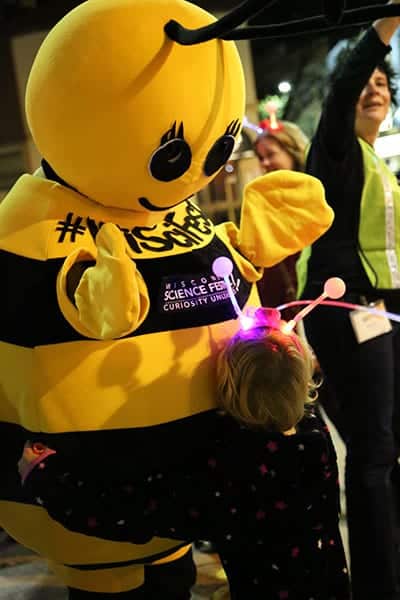 For example, the Science Trivia Trolley will take visitors on rides around the Capitol Square while quizzing them on science facts, Fromagination will delve into the science of cheesemaking and Colectivo Coffee will host a discussion on the future of transportation. Get in some rooftop stargazing at Parthenon Gyros and be sure to visit the Wisconsin Historical Museum, event headquarters for the night.
Laura Heisler, director of the festival and programming for the Wisconsin Alumni Research Foundation and the Morgridge Institute for Research says meeting people where they are is an important part of introducing new audiences to science topics.
"We hope to connect everyone to their inner scientists, and sometimes that means connecting through unusual and unconventional avenues like the arts, entertainment and food."
In other parts of Wisconsin, libraries have come out in full force to bring science to their communities with more than 40 libraries participating across the state. Featured activities include everything from Lego labs, robotics and slime-making to talks on nuclear energy and Wisconsin's Geoheritage delivered by UW experts via Badger Talks.
Highlighted events include:
This popular, fast-paced event featuring five-minute talks from some of UW-Madison's biggest brains is back! This year's edition brings a flood of information about the one substance that all life depends on—water. 2019 is the Year of Safe Drinking Water in Wisconsin. Dive in to an evening of fun and facts about Wisconsin's lakes, rivers, faucets, snow and more.
Details: Thursday, Oct. 17, 7 p.m. in the Discovery Building, H.F. DeLuca Forum.
This second annual Friday night bash will take place on the capitol square in downtown Madison. Explore dozens of venues at your own pace. Museums, pubs, restaurants, stores and more will host #WiSciFest events, including informal science talks or demonstrations, tastings, stargazing and hands-on activities. Look for the festive lights and signage to find science fest events.
Details: Friday, Oct. 18, 6 – 9 p.m. around the Capitol Square in Downtown Madison.
Kyle Hill, science editor of Nerdist.com and host of the popular YouTube science show Because Science, will bust some myths from the Star Wars movies and take part in an audience Q&A. Feel free to dress for the topic in your best Star Wars regalia!
Details: Saturday, Oct. 19, 8 – 9 p.m. in the in the Discovery Building, H.F. DeLuca Forum.
The UW comes to you! University speakers talk wetlands, Vietnam, online privacy, nuclear energy and more in your neighborhood. More than 20 Badger Talks will be hosted in various communities across Wisconsin.
Details: Oct. 16-20, at various times and locations across Wisconsin.