Partnerships built on a shared vision
At the Morgridge Institute, we believe in Fearless Science. This means we are willing to take risks and press against boundaries. We aim for science that we can't currently imagine.
As an independent institute, we have the freedom to move quickly and decisively, to follow interesting and important questions, wherever they may lead — especially if they lead to uncharted territory. But we are unique in that we have the best of two worlds. We are deeply engaged with one of the world's preeminent public research universities and work strategically with the biomedical research community at UW–Madison.
What are the elements that make this model work?
Our benefactors, John and Tashia Morgridge, were farsighted and expressly built into our endowment a component that allows us to invest in new initiatives. Yet we are not simply another funding source on campus. We evaluate new ideas within light of our own programs, with a process for deciding when to participate.
We have a focused mission and are committed to the importance of curiosity-driven research. We don't try to cover the entire waterfront. We have specific themes, which means we say no to some projects, and our colleagues on campus understand that. They also recognize that we have picked fundamental areas that overlap with a wide spectrum of biomedical research.
We also exist in a unique culture. The Wisconsin way of doing things is different from many other places, where policy and direction are often determined top-down. People here build coalitions to get new ideas off the ground, and that's a good thing. It may take longer, but it results in strong, grassroots support.
These are more than coalitions or collaborations; they are true partnerships. We've put a little bit of ourselves on the line. There is an enormous amount of trust that is required in a partnership, a willingness to assume the same risk with a commitment to see things through to the success or the failure of a shared goal. We genuinely have each other's backs.
In the following pages, you will see highlights of how this works in practice.
Our mass spectrometry team has broadened its curiosity to include cancer research.
We support the technology and talent that helped establish a leading center for Cryo-EM technology.
The campus metabolism initiative, modeled on the stem cell community we helped create, draws from nearly two dozen science disciplines.
Our research computing team has helped more scientists extract value from data-intensive research and helped expand research computing campuswide.
We are combining the research and practice of science engagement to better understand how to depolarize public debate about science.
All of these partnerships are thriving because they are based on trust, transparency, and a shared vision. We believe they will unleash the best ideas to advance our knowledge of human health.
Sincerely,
Brad Schwartz
CEO, Morgridge Institute for Research
Numbers of Note
50+
New research ventures launched between Morgridge postdocs and UW–Madison investigators since 2015
500+
Number of campus scientists who belong to the Morgridge Metabolism Initiative, a collaborative hub for metabolism researchers since 2015
82
Number of academic departments and programs that have employed high-throughput computing in their research since 2017
30,000+
Number of Wisconsin K12 students who have participated in science field trips at Discovery since 2011
36
Number of UW–Madison scientists who have employed the Cancer Metabolomics and Proteomics (CAMP) resource, led by Joshua Coon, in their research
$5.7 million
Investment from the Morgridge Strategic Fund in scientific technology deemed a high priority at UW–Madison, such as electron tomography, mass spectrometers and cryo-EM microscopes since 2014
500+
Number of UW–Madison faculty who have participated in public science programs through Discovery Connections since 2011
2022 Milestones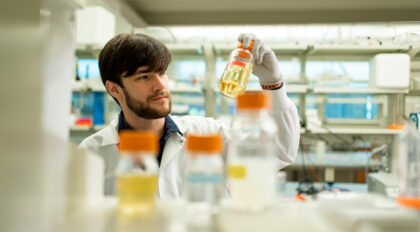 The Morgridge Metabolism Initiative helps hundreds of campus scientists learn from each other and push the boundaries of research that is central to human health questions such as aging, diabetes and cancer.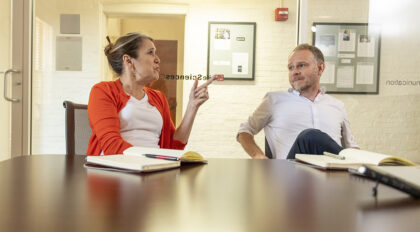 The Morgridge Institute and UW-Madison Life Sciences Communication will join forces to investigate new ways to best communicate complex scientific topics to society.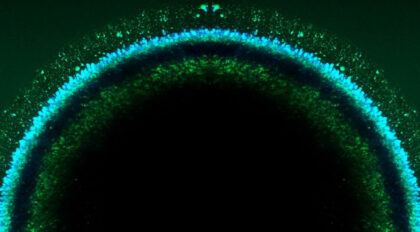 One of the first frontiers of CRISPR gene editing is targeting diseases related to the eye. A diverse Morgridge and UW-Madison team is working to make future applications precise, safe and reproducible.
Request your copy of the Annual Report