The Morgridge Institute's role in advancing stem cell research at UW-Madison is a well-known story.
The institute helped keep stem cell pioneer Jamie Thomson in Wisconsin and the privately funded biomedical research institute became a nucleus for the stem cell community.
That approach helped UW-Madison become a world leader in stem cell research. It also became the model for what could be accomplished in other fields of science. Most notably, Morgridge has become the hub for a thriving university-wide metabolism community.
The institute didn't set out to prioritize metabolism. They approached their mission with a broader question: "What can we do that will help the campus?" recalls Brad Schwartz, who became CEO in 2013. They held several symposia for researchers to speak about their work. Compared to other topics, the enthusiasm and energy around the metabolism gathering was palpable. "It was pretty clear we ought to do this," he says.
Often called the chemistry of life, metabolism provides the fuel for all the activity within every cell in the body. So perhaps it was no surprise to learn there were hundreds of people on campus whose research involved metabolism, each working in their own little orbit. Schwartz realized if they could bring them together into one solar system, they could identify common needs – and help them find solutions.
The timing couldn't have been better. Not long ago, people felt metabolism was a closed book; the pathways were identified and it was all figured out. Now there is a Renaissance of science in metabolism, as researchers realize there is a great deal they still don't know.
"To really do cutting-edge science, especially in a complex field like metabolism, you have to be able to collaborate, communicate, and get along with people."

Laura Knoll
One of the gaps the Morgridge Institute quickly identified was the ability to analytically identify and quantify molecules that are part of the metabolic pathways, an emerging field called metabolomics.
Josh Coon, a Morgridge and UW-Madison biochemist, had the expertise and interest to run the kind of computer modeling this would require, but not the funding to take it on. Morgridge partnered with UW-Madison's biochemistry department, a birthplace of metabolism research in the United States, to hire staff and secure the hardware he needed to launch a metabolomic center, now self-sustaining and in high demand.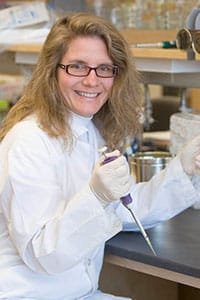 These collaborations are already having impact in fighting disease. Laura Knoll, professor of medical microbiology and immunology, was studying a parasite that scavenges metabolites from cells to get the nutrients it needs. This mutant parasite was making mice morbidly obese, but she didn't know why.
She was able to work with several different researchers in the campus community to understand the basic science and run experiments to find ways to stop the parasite from tricking the metabolism of the host cells. The result? An FDA-approved drug that inhibits this pathway and kills the parasite.
"Science is all about collaboration," says Knoll. "To really do cutting-edge science, especially in a complex field like metabolism, you have to be able to collaborate, communicate, and get along with people."
Collaboration is especially critical on a complicated disease like diabetes, a huge public health issue affecting 11 percent of the population that leads to increased risk for many other diseases. Diabetes and metabolism are deeply intertwined: metabolism is how the body extracts energy from food, but when diabetes reduces insulin levels, it can inhibit the energy from being stored.
When Dawn Davis, professor of endocrinology, diabetes, and metabolism, set out to build a diabetes center on campus a few years ago, she was able to build on the collaborations already brewing within the metabolism community to establish the center in early 2020. "If we all work in our little silos on the one thing we know, we never really can push the boundaries of what we want to learn," says Davis.
The Metabolism Initiative has grown into a diverse community of more than 500 researchers who reside in more than two dozen UW-Madison departments. In addition to the fellowship program, Morgridge sponsors an annual symposium (paused during the pandemic), a seminar series, and "MetaLunches" where professors from around campus talk about their work. Monthly online meetings also give trainees experience presenting their work and fielding questions.
This amazing diversity of science thrives because the initiative is a true collaboration, not backed by a formal metabolism department.
While this may seem like a drawback, it is actually an advantage. As Davis notes: "Bringing together multiple departments and schools working on metabolism increases the interactions and the ability to form new directions and collaborations — and helps all of us do better science."
Metabolism Impact Footprint
The Morgridge Metabolism Theme serves as a collaborative hub for more than 500 scientists on campus
Talent Recruitment
Dr. Jing Fan, Dr. Jason Cantor
Programming Support
MANTP – Seminar series and professional development for trainees
American Aging Associate AGE 2021 Meeting Sponsor
ASBMB Meeting on "CoA and CoA-derivatives" 2023 Meeting Sponsor
Instrumentation Investment
Laboratory for Biomolecular Mass Spectrometry
Small Animal Metabolic Phenotyping Facility
Morgridge/UW-Madison Metabolism Symposium
2018, 2019, 2021
Morgridge Metabolism Colloquium
34 invited speakers since 2015
Frontiers in Metabolism
2018, 2019
UW-Madison Diabetes Day
Sponsor/Administrative Support: 2019, 2021, 2022
Morgridge Metabolism Interdisciplinary (MMI) Fellowships
FY2018 – Fellow – Prasanth Kumar
FY2019 – Fellow – Bruno Martorelli Di Genova
FY2020 – Fellow – Kaitlin Fisher