Tony Gitter, a Morgridge investigator in virology and research computing and an associate professor of biostatistics and medical informatics at the University of Wisconsin–Madison, has been named the Jeanne M. Rowe Chair in Virology.
The chair honors Jeanne Rowe, who, along with her late husband John Rowe, has been deeply involved in the Morgridge Institute and UW–Madison — John was a graduate of the Department of History and the Law School, as well as a member Morgridge Board of Trustees and chair of the WARF Board of Trustees. 
The Rowes have been longtime supporters of fundamental research and in particular, of the ways early-stage research can improve human health. That support culminated in the creation in 2018 of the John W. and Jeanne M. Rowe Center for Research in Virology, where Gitter is an investigator.
Now, the inaugural Jeanne M. Rowe Chair provides another incredible chapter in the couple's legacy at the Morgridge Institute.
"My husband, John, and I wanted to do our part in helping the best and brightest investigators such as Tony do what they do best: impacting humanity in such a huge way," Jeanne Rowe says. "I am always in awe of the unending progress in areas that will undoubtedly save many lives. I could not be more proud of Tony and the entire Morgridge team. The naming of the Jeanne M. Rowe Chair is both an honor and privilege, and I look forward to the many invaluable discoveries that will continue to surface in the coming years."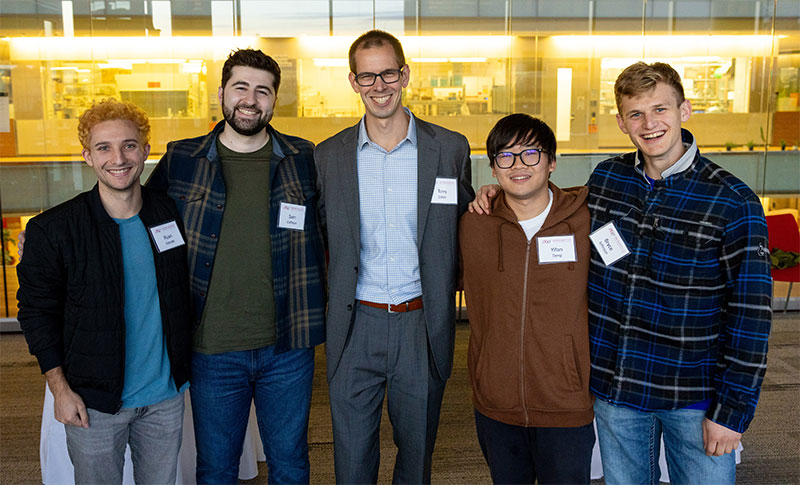 The chair was bestowed on Gitter during an investiture celebration in November with colleagues, collaborators, and students. A central theme of the night was the Gitter Lab's commitment to curiosity-driven research and one of the highest ideals of science — to make the world a better place.
"It's a high bar," Morgridge CEO Brad Schwartz said with a smile during the celebration. "The Rowes have always made it clear that they are attracted to ideals. And one of the things that they find to be compelling about the Morgridge Institute is the way that we talk about the highest ideals of science."
"Jeanne Rowe is a really special person," added Gitter. "She really gives herself to the organizations she supports. She's going to go make connections and build lifelong friendships, and change people's lives. It really is impactful and empowering, and such a great honor to have that level of trust in our research."
Gitter is a computational biologist who uses network modeling to connect genomic, transcriptomic, and proteomic data and provide a cohesive view of biological processes inside cells, with special emphasis on virology and oncology. He has emerged as a trailblazing scientist wielding the power of computing to tackle some of biology's biggest challenges in health and medicine.
"But the research group and the people I work with are really the ones who are powering the research. I'm so proud of the things our research group has accomplished."

Tony Gitter
"We're trying to change the ways that we can develop medicines and drugs. We're trying to change the ways we work with our collaborators to interpret human genetic variation and understand disease. And we're working with our partners to understand what happens when viruses infect host cells, how can we understand those processes," Gitter said.
If the lab's research directions seem visionary, it's because they are — that's just how Gitter approaches any new challenge, says Michael Newton, the chair of Biostatistics and Medical Informatics.
Newton recalled how in the 2010s, researchers in computational biology were largely wrestling with how to handle the increasingly large amounts of data in biology. But, not Tony — at least not exactly.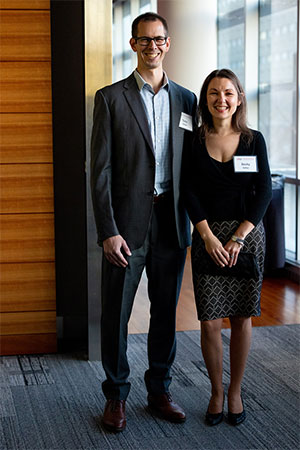 "Tony immediately jumps to the front and says, well, that's all fine and good. But really, what's important is not so much the number of different things that you're measuring, it's all their interactions that you need to understand better to understand the system. If you're measuring 1,000 things, there's 500,000 potential pairwise interactions," Newton recalled from his first meetings with Gitter.
Newton added that no project seems too big or too difficult for Gitter; he is committed to validating his computational work against prospective experiments, a "gutsy" move that can only be done by uniting a deep understanding of not only computation and networks, but also biology.
That curiosity and tenacity was what caught the attention of the institute and UW–Madison when Gitter joined as an assistant professor in 2014.
"Tony not only develops elegant, new, crushingly powerful algorithms, but he also collaborates to see that they actually get applied to produce results, something that we greatly value here," said Paul Ahlquist, director of the Rowe Center. "Tony is an outstanding researcher."
Gitter's lab is deploying artificial intelligence to guide protein engineering, chemical screening and drug discovery. He is a co-investigator with Newton on UW2020- and NIH-funded projects to deliver a new smart, adaptive chemical screening pipeline that uses software tools to — at a fraction of the normal screening cost — speed the discovery of drug-like compounds that are therapeutically relevant.
This research builds on his success creating a new computing infrastructure that's accelerating biological and biomedical research at the university. Gitter was awarded a UW2020 project to create the GPU Lab, a UW facility that provides scientists with free access to a pool of more than 100 GPUs, a necessary tool for scientific computing and machine learning.
One of the Gitter Lab's central goals is to ensure computational tools are distributed broadly and openly, and one powerful example is Manubot. This open, collaborative writing platform was developed with colleagues the University of Colorado Anschutz and University of Pennsylvania. Manubot exploded in 2020 when it allowed diverse groups of researchers to integrate and build on the massive amounts of emerging COVID-19 literature for diagnostics and therapeutics, ultimately producing a series of eight research papers.
At the investiture, Gitter thanked the Rowes, collaborators, students, and his wife Becky for their unwavering support throughout his career. But he did not get here without them — it was and remains a team effort.
"My name is here, and it's on the chair," Gitter said. "But the research group and the people I work with are really the ones who are powering the research. I'm so proud of the things our research group has accomplished."