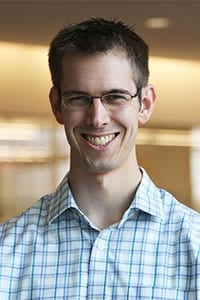 Investigator, Virology
Area:
Phone:
(608) 316-4442
Email:
[javascript protected email address]
Lab website >
My group develops computational approaches to reconstruct signaling pathways and transcriptional regulatory networks from multiple types of high-throughput data using techniques from machine learning and graph theory. We emphasize dynamic networks and disease applications in virology and oncology.
Education
Ph.D., 2012, Carnegie Mellon University
Selected Publications
Network inference with Granger causality ensembles on single-cell transcriptomic data. Atul Deshpande, Li-Fang Chu, Ron Stewart, Anthony Gitter. bioRxiv, 2019. doi:10.1101/534834
Practical model selection for prospective virtual screening. Shengchao Liu*, Moayad Alnammi*, Spencer S Ericksen, Andrew F Voter, Gene E Ananiev, James L Keck, F Michael Hoffmann, Scott A Wildman, Anthony Gitter. Journal of Chemical Information and Modeling. 59:1, 2019.
Synthesizing signaling pathways from temporal phosphoproteomic data. Ali S Köksal, Kirsten Beck, Dylan R Cronin, Aaron McKenna, Nathan D Camp, Saurabh Srivastava, Matthew E MacGilvray, Rastislav Bodík, Alejandro Wolf-Yadlin, Ernest Fraenkel, Jasmin Fisher, Anthony Gitter. Cell Reports. 24:13, 2018.