Of all health dangers, the impact of infectious diseases easily dwarfs any other natural or man-made catastrophes. The most deadly and debilitating diseases known to humankind are due to virus infections, including 10 to 15 percent of all cancers. Besides their devastating impact on public and global health, viruses such as COVID-19, influenza, HIV, hepatitis C and human papillomavirus also lead to billions of dollars in direct economic and indirect societal costs each year. Viruses are part of all earth's ecosystems and infect all kinds of organisms, from plants and insects to fish and mammals, and even single cell life forms like bacteria. Unlike other microbes and higher life forms, viruses are entirely dependent on the molecular machinery of their infected hosts.
The Morgridge Institute for Research Virology Team uses multiple approaches to accelerate understanding of virus replication and interactions between viruses and host cells, a critical foundation to effectively prevent, diagnose, and treat virus-associated disease, including cancer.
Leadership
Paul Ahlquist, Director
The Virology Research Team at the Morgridge Institute is directed by National Academy of Sciences member Paul Ahlquist. In his capacity as a UW-Madison professor, Paul holds faculty positions in the University's Department of Oncology in the School of Medicine and Public Health, the Institute for Molecular Virology under the Office of the Vice Chancellor for Research, and the Department of Plant Pathology in the College of Agricultural and Life Sciences. He is also the Associate Director for Basic Sciences at the UW Carbone Cancer Center. Paul's research group studies the molecular mechanisms of viral replication, virus-host interactions and viral pathogenesis, including virus-induced cancers.
Anthony Gitter, Investigator
Anthony Gitter is a Morgridge Institute for Research Investigator and UW-Madison School of Medicine and Public Health Assistant Professor of Biostatistics and Medical Informatics. Tony studies the interconnected relationships in biological networks – how multiple genes or molecular pathways work together in living systems, particularly in biological processes such as disease progression.
Timothy Grant, Investigator
Timothy Grant is a Morgridge Institute Investigator and an Assistant Professor of Biochemistry in the UW-Madison College of Agricultural and Life Sciences. Tim's expertise is in developing and applying new methods for improved imaging and image analysis by cryo-electron microscopy (cryo-EM). Cryo-EM is an increasingly powerful approach that is revolutionizing determining the structures of biological macromolecules (proteins, nucleic acids, etc.) and complexes at near-atomic to atomic resolution.
About the Rowes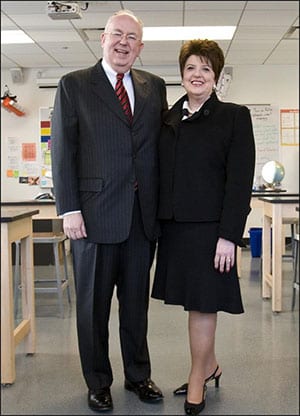 The Morgridge Institute launched in 2018 the John W. and Jeanne M. Rowe Center for Research in Virology, a new transformative research initiative made possible by the philanthropic support of John and Jeanne Rowe. The Rowes have been deeply involved in the Morgridge Institute's first ten years. John served on the Morgridge Board of Trustees and as chair of the WARF Board of Trustees, and together John and Jeanne broadly supported the humanities and education at the grade school, high school and university levels.
John says that he and Jeanne have come to see biomedical research, and virology, as an area where their philanthropic support can change lives and help people. "All of the work that the wonderful scientists are doing (in the virology team) could really save a huge part of humanity," adds Jeanne. "Their work reaches out to so many people—and can help so many more."
"The Rowes are tackling some of humanity's biggest viral threats and supporting research that could help stop hundreds of disease-causing viruses. Along the way, we are likely to learn things that have other benefits we can't even predict," says Morgridge CEO Brad Schwartz. "All of us at the Morgridge Institute are honored by their philanthropy, and the confidence they have shown in us."