Jacquelyn Fredrick, a longtime executive with one of the nation's leading providers of blood health solutions, has joined the Morgridge Institute for Research Board of Trustees.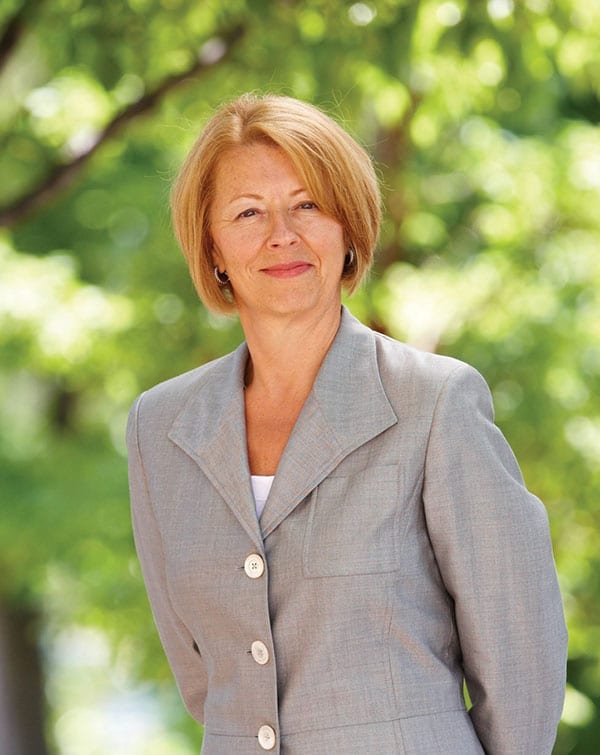 Fredrick served as president and CEO of Blood Center of Wisconsin (BCW) and Versiti for 15 years before retiring in 2017. BCW is the exclusive provider of blood and blood products for 56 Wisconsin hospitals in 29 counties, and provides more than 230,000 units of blood annually.
Under Fredrick's leadership, BCW created a national organization called Versiti, a nonprofit holding company that brought together several Midwest healthcare entities to better serve the needs of more than 200 hospital partners.
"I'm enthusiastic about being part of the Morgridge Institute's innovative model for how we can improve excellence in biomedical science, but in a way that stays in touch with how science makes people's lives better," Fredrick says. "I'm attracted to the institute's commitment to fostering a great research environment, while at the same time being a partner to the University of Wisconsin community."
In addition to providing a range of blood and medical services, BCW, founded in 1947, also is unique among blood centers in that basic research is a part of its core mission.
"Most blood centers began at that point, because World War II taught us the responsibility of a society to have a safe, available blood supply," Fredrick says. "But we were also founded with two goals: to serve every man, woman and child who might visit a doctor, and to do world-class research that could have impact. That's what made us unique from the very beginning."
Brad Schwartz, CEO of the Morgridge Institute, says Fredrick's background and expertise is an ideal fit for the Morgridge Board of Trustees. The 18-member Morgridge Board meets three times annually and provides advice and oversight of the institute's direction. Fredrick's first meeting will be on June 12.
"As someone who has steered a major biomedical nonprofit in Wisconsin, Jackie understands the importance of closely adhering to our mission and keeping the needs of society at the forefront of our thinking," Schwartz says.
Fredrick is active in many other Wisconsin organizations. She serves on the boards of Wisconsin insurance company M3, the Froedtert Health System, Alverno College, and the University of Wisconsin-Milwaukee Research Foundation and Lubar School of Business.