We want to first share our hope that you and your families are safe and sound during this unprecedented time.
And secondly, we wanted to tell you we are proactively working to keep our teams and scientists safe during the COVID-19 pandemic. Morgridge scientists are driven to take science where it leads to new frontiers and improve human health.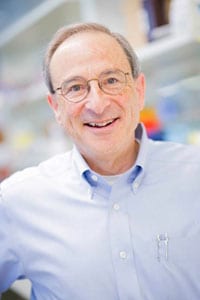 Like you, we are rightfully concerned about COVID-19 and its implications globally and locally. In times like these, we are fortunate to count on our internationally and nationally-recognized experts in the John W. and Jeanne M. Rowe Center for Research in Virology.
Our scientists have a history of working to understand and control the largest genetic class of viruses including coronaviruses, HIV, Dengue and Chikungunya viruses, and cancer-causing papillomavirus. The Rowe Center is leading a transformative effort to develop broad-spectrum antivirals, which are therapeutic drugs to target entire families of viruses. We hope the center's foundational work will contribute to a more comprehensive solution to curb future viral threats facing humanity which are sure to come.
You are no doubt seeking information and resources about the pandemic. Morgridge Virology Investigator Paul Ahlquist has compiled a list of the most authoritative state, national and global information sources on COVID-19. This page also links to campus centers of research expertise.
We also want to share that we have done the following at the Morgridge Institute:
Closed the Discovery Building to the public in collaboration with our campus partners
Canceled all public gatherings and events until further notice from public health professionals
Asked all staff who can work from home to do so effective Monday, March 16
Participating in a campus-wide effort to donate any personal protective equipment (PPE) to area healthcare providers
Routinely updating our community about operational procedures with a commitment to transparency and clarity
Working in close collaboration with UW-Madison health officials to distribute resources and information
Adopted international and domestic business travel restrictions
Let me also emphasize that essential Morgridge research is continuing; we have only needed staff in place, working under very careful conditions, to make sure we do not lose critical experiments. We have restricted access to Morgridge research labs and our teams are deeply informed on policies and procedures to optimize safety. Our community is deeply committed to following these recommendations and to taking the rapidly changing pandemic very seriously.
We are living with enormous public health challenges and unsustainable costs for all nations. To combat global pandemics such as this, we need new, more powerful and more broadly effective antiviral approaches, and this requires a deeper fundamental understanding of viruses and their interactions with their hosts.
That's where you matter. We truly count on a community of supporters: donors, collaborators, friends, colleagues, students, teachers, and the thousands of people who participate in Morgridge Institute public events. Thank you for taking an active role in supporting science, research and outreach.
There is always the next frontier in science. The best scientists are poised to explore it — and because of you, our best is ready.
With gratitude,

Brad Schwartz, M.D.
Chief Executive Officer
Morgridge Institute for Research