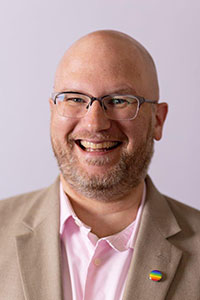 Engagement, Education, and Equity Director
Area:
Phone:
(608) 316-4716
Email:
[javascript protected email address]
It is easy to think of scientists as individuals conducting experiments and writing papers. Practicing scientists, though, must be much more than individuals working at a bench. They must be excellent communicators, collaborators, leaders, project managers, trainers, and more.
My role is to provide resources to develop the "whole scientist" – trainees who are well prepared to be leaders in their future professional homes. I manage the Morgridge Postdoctoral Fellowship and the Morgridge Professional Development Series, both of which are designed to enrich the experience of our early-career scientists through training, community building, and advising.
I also work with Institute researchers on some aspects of their public engagement. I'm passionate about breaking down barriers to STEM, and I enjoy working with our scientists as they seek out ways to connect with the public.
Areas of Expertise
Science Communication
Informal Science Education
Program Management
Biochemical engineering
Microbial Metabolic Engineering
Molecular Biology
Bioreactor/Fermentation Biotechnology
Education
Ph.D. Chemical Engineering, 2008, University of California, Berkeley
B.S. Chemical Engineering, 2001, Virginia Polytechnic Institute and State University (Virginia Tech)
Honors
NSF Pre-Doctoral Fellow