Stem cells are a powerful tool to understand and treat cardiovascular disease, which is responsible for over 30 percent of all deaths worldwide.
Scientists are beginning to unlock their potential. Using human induced pluripotent stem cells (iPSC), we can generate highly functional cardiomyocytes (CM), the muscle cells responsible for the contraction of the heart. Armed with these cells, scientists hope to model heart disease, screen drugs, and develop personalized patient therapies.
However, the process of differentiating stem cells into mature cardiomyocytes is costly, labor-intensive, and highly variable.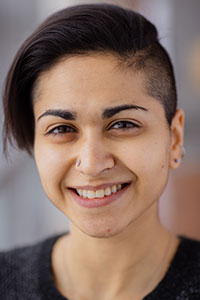 And that's where Danielle Desa comes in.
In September, Desa was awarded the inaugural Melita F. Grunow Postdoctoral Fellowship at the Morgridge Institute for Research — a new fellowship honoring Melita Grunow of Fontana, Wisconsin that funds early career scientists.
Desa seeks to break new ground in optical imaging design and stem cell research. She is mentored and supported by Melissa Skala, the Carol Skornicka Chair in Biomedical Imaging at Morgridge, and William Murphy, the Harvey D. Spangler Professor and H.I. Romnes Faculty Fellow in the Department of Biomedical Engineering at UW–Madison.
Desa's project builds on the momentum of the Skala Lab's 2021 publication in the journal Nature Communications which describes a non-invasive imaging technique that can predict the efficiency of CM differentiation as a method of quality control.
For Desa, the goal is to make the entire process faster, cheaper, and more accessible. She is working to build and validate a cost-effective, user-friendly single-photon system capable of high-throughput autofluorescent optical metabolic imaging to distinguish iPSC-CM differentiation and maturation efficiency.
"The significance of Dr. Desa's postdoctoral research could be quite high," says Murphy. "Heart disease is the number one killer annually in the U.S., and scalable manufacturing of mature, functional human cardiomyocytes offers potential for a blockbuster new treatment ."
The Skala Lab, and UW–Madison, were a natural fit for someone with Desa's background in biomedical engineering – here, she can leverage the optical prowess of the Skala Lab and the biomaterials expertise of the Murphy Lab.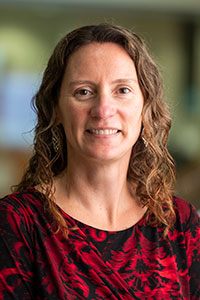 Through her fellowship, Desa is investigating the impact of engineering hydrogels and defining key markers of iPSC-CM metabolism and maturation. She's honing her optical engineering skills and building a microscope with a smaller footprint that can be integrated with more widely-available commercial microscopes making it more accessible to research laboratories and the biomanufacturing industry.
"My personal interest has always been in microscopy," Desa says. "And on a personal level, it's cool to think about making microscopes more accessible to people. I think many people, especially on the biology side, just don't know exactly what they can do."
Skala, who is helping to train and mentor Desa, has been looking to incorporate high-throughput technologies for screening biomaterials into her research program.
"With the tremendous enthusiasm from Dr. Desa, I am happy to begin this new line of work. This is a natural next step for my lab, as we are just beginning to work with stem cells and need a motivated scientist to tackle the next challenge of accessible tools for translation to industry," Skala adds.
Desa's hope is that the system, paired with the bioengineered iPSC scaffolds from the Murphy Lab, will open up a new door to rapidly and non-invasively screen culture conditions and create a protocol to consistently produce iPSC-CMs with metabolic profiles that resemble mature adult CMs.
"This collaboration will be invaluable to my development as a scientist and advancing my overall career goals."

Danielle Desa
"That's really the kicker. We're not doing anything disruptive with the microscopes," she says. "But if I can tell you on day 6, that you have a really good batch of cells and 80% of them are going to be heart cells — that's a big deal."
Guided by Skala and Murphy, Desa is working at the intersection of basic science and medical applications — something that will help launch her career.
"I've always liked being in an interdisciplinary space, which obviously Morgridge is great at," Desa says. "Dr. Skala and Dr. Murphy emphasize translational science, working with local biotechnology companies to move laboratory findings towards the clinic. This collaboration will be invaluable to my development as a scientist and advancing my overall career goals."