Walk into one of the second-floor teaching labs at the Discovery Building, and among the test tubes, white lab coats and state-of-the-art 3D printers, you will find a jumbled mass of wires, microcontrollers, cardboard and tinfoil that roughly resembles a pinball machine. In the coming months, this hodge-podge of materials will transform into a fully functional, laser-cut, tabletop pinball machine complete with an LCD screen and data-collecting mechanism.
This pinball machine is an important part of a research project being conducted at the Morgridge Institute for Research by Anthony Gitter, a principal investigator in the John W. and Jeanne M. Rowe Center for Research in Virology whose group investigates how computational tools can be applied to problems in human health and biology.
"One thing we've been looking at with various collaborators is how cells pass messages within individual cells," Gitter says. "Proteins in cells have ways of using chemical changes to do the messaging, and that's what we're very interested in studying computationally."
In 2016, the National Science Foundation (NSF) funded Gitter's investigation into this complex communication and interaction that takes place between proteins in an individual cell.
The NSF grant also supports broader impacts in connecting research to the public, and Gitter decided to make inspiring children's understanding of computational thinking the focus of his project.
Having discovered science himself at a young age, Gitter recognizes the importance of getting children excited about science early-on. However, Gitter acknowledges that his research does not naturally lend itself to being easily understood by the average person, let alone a child.
"I know some of the simple things that got me very excited about some of our research problems," Gitter says. "I think it's very hard for anyone else outside of my research group to get a glimpse of that."
Gitter faced a challenge: How could he translate his work into something children could understand and maybe even enjoy? The answer to that question: 'Protein Pinball.'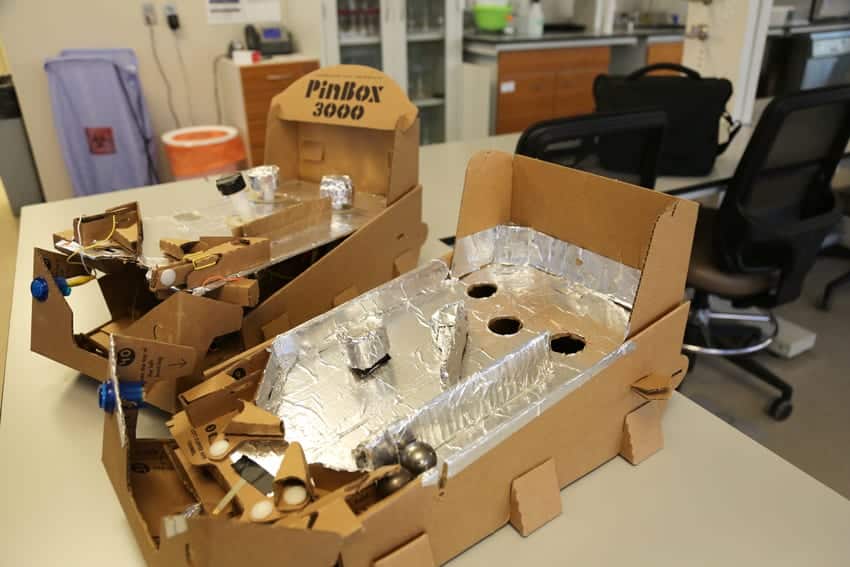 Constructing a kid-friendly prototype
Gitter enlisted the expertise of the Discovery Outreach team who help scientists design and implement plans to accomplish their broader impacts goals. Travis Tangen, a member of the Discovery Outreach team and education and outreach manager at WARF, took the lead on the project.
"We sat down right away and talked about how we could do public engagement with his science through the different programs and structures that we have at the Discovery Building," Tangen says.
Matias Figari and Max Schleck, undergraduate students at the University of Wisconsin–Madison and interns on Gitter's team, have lead the fabrication of the pinball machine. Gitter and Tangen challenged Matias and Max to design and build an activity demonstrating Gitter's research following the plan the Discovery Outreach team had created.
Originally, the Discovery Outreach team, along with Figari and Schleck, used Ozobots – small robots that can follow lines drawn on paper – and proximity sensors to represent how proteins communicate with each other within a cell.
While this activity, among others, worked well, based on feedback the team decided to build a pinball machine, instead. This activity better aligned with Gitter's primary goal: inspiring children's understanding of computational thinking.
"Essentially, the game is supposed to be a cell. And inside the cell there's proteins and the proteins are talking to one another. And that's being mapped out on a small LCD screen that's hooked up to the game," Figari explains.
Gitter and Tangen were impressed with the early Protein Pinball machine prototypes.
"As they started describing [the pinball machine], we realized that you could very closely match the pinball game to the science and what we were studying," Gitter says. "So we set aside the robots and completely ramped up efforts on the pinball machine. As a kid, I would have loved this."
Figari and Schleck built the first iterations of the pinball machine from scratch over the course of a summer and tested these first prototypes with children visiting the Discovery Building for different events. It was a hit.
"They see a pinball machine, and they kind of just get drawn to it"

Max Schleck
"I mean, they're kids. They see a pinball machine, and they kind of just get drawn to it," Schleck says. "And that's why I think we switched to the pinball idea, because it's more of like this game aspect."
"The pinball machine was just a more user-friendly, more intuitive way to teach these kids," Figari adds.
Using this input, Figari and Schleck refined the pinball machine, resulting in the current cardboard and tinfoil prototype.
"My favorite part [of this project] was actually the first meeting where I saw the pinball prototype machine," Gitter says. "They had so many of their own ideas, all this creative energy, and then the prototyping engineering programming skills to actually make it happen."
"It got tested robustly. And every time it got tested, it improved," Tangen says. "That's what's really great about having a framework to test these activities out at Saturday Science, Wisconsin Science Festival, after school and field trips and summer camps."
While the machine is still in development, the team hopes to ultimately construct 15 laser-cut models of the Protein Pinball machine that are replicable, standalone and tabletop-sized, making them easy to set "out and about" at the Discovery Building where the public can access them during events such as Saturday Science and the Wisconsin Science Festival.
Laura Heisler, Morgridge Director of Outreach, is optimistic about protein pinball and excited about its potential impacts, which will reach beyond Madison and even Wisconsin.
"This project is a perfect example of how it's possible to find engaging ways of connecting diverse audiences to really complex science concepts by tapping into the process of discovery and research," Heisler says. "That's what our team does with dozens of scientists across numerous disciplines."
"I think all of us on this project really are striving to make something marvelous and impactful, and that requires a little bit of ingenuity and extra work," Tangen says. "And that's what's been happening."