Are you a postdoc? Train with us!
Scientific training is much more than learning experimental methods or interpreting data. When postdoctoral trainees enter the workforce, they will become faculty, science managers, and company leaders. They require management, leadership, collaboration, and communication skills to be successful, and we are committed to supporting their growth.
The Morgridge Institute is committed to fostering growth of "whole scientists," with scientific training that prepares them as science leaders. And, because of our close affiliation with UW–Madison, the institute is committed to enhancing the research and educational mission of the university.
We not only press the boundaries of biomedical research–we also mold the next generation of fearless scientists who will carry that mantle in the future.
Your scientific training will be second to none.
Our principal investigators are among the best in the world, and every trainee receives rigorous research training. Postdocs are encouraged to embrace the Fearless Science philosophy, and they generally have the ability to lead their projects where the science takes them.
You are at UW-Madison's doorstep.
All of our investigators are also faculty at the university, and that means you'll have access to everything that the university has to offer, too. Perennially one of the top-ranked research universities in the US, UW-Madison offers outstanding collaborators, shared facilities, and expertise available to you as a researcher.
You'll also receive dedicated professional and career development.
Our trainees are encouraged to develop the communication, leadership, and management skills that will serve them throughout a career. All of our postdocs and graduate students are eligible for 1-on-1 advising on professional growth, and you will have access to UW-Madison's Office of Postdoctoral Studies and the Graduate School's office of Professional Development.
You are a full member of the team.
Postdocs at Morgridge are considered full-time employees of the institute. You will enjoy the full retirement, health insurance, paid time off, and other benefits as our staff.
We also have fellowship programs for postdocs!
Morgridge postdocs appreciate our flexible approach
After completing training, Morgridge postdocs have landed faculty positions, founded companies, landed prestigious AAAS fellowships, entered government service, entered industry, and more. When asked, our trainees commonly cite three reasons why they chose a Morgridge postdoctoral position: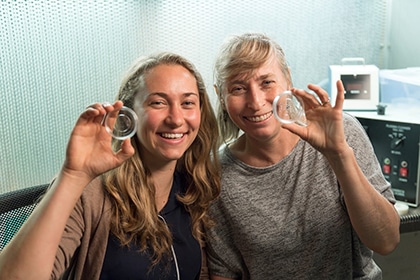 Research flexibility
Because their scientific activities are less constrained to the specific aims of grant funding, they have more freedom to go where the science takes them.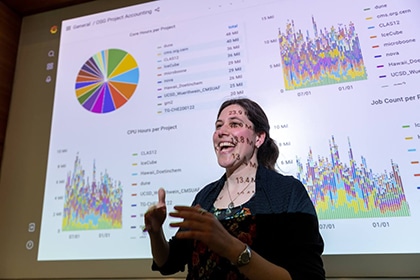 Support for entrepreneurship
The institute's recognition of the importance of entrepreneurial pathways is cited as an influencing factor.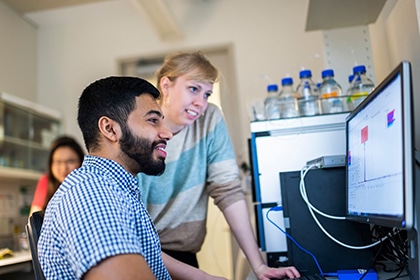 Interdisciplinary approach
The ability to learn across disciplines is frequently cited, especially regarding imaging expertise. Several of our postdocs are excited to learn multiple hardware systems, and most express enthusiasm for finding new training collaborations.